/

/

Fire danger continues even as rains begin to return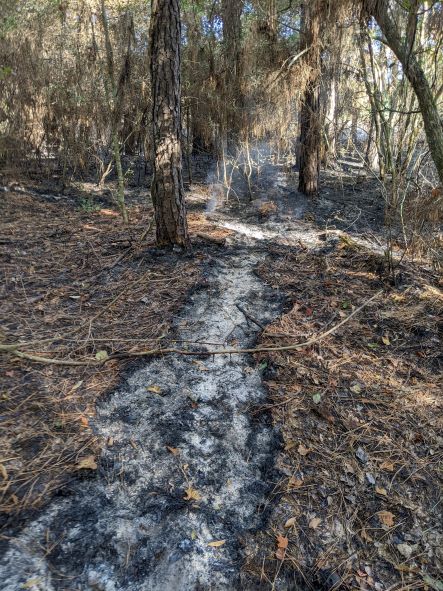 THE WOODLANDS, TX - Rainfall is in the forecast for the end of the week and more is possible next week. Most of southeast Texas has been suffering from an extended drought this summer and Montgomery County is no exception. Drought readings are nearing the top of the scale and we would need to see 6-7" of rainfall to return to full saturation.
Recent wildfire one of several started by lightning during summer storms.
Our fire danger does not end after it rains. This past weekend, a large wildfire was reported burning near Giles Rd, off FM 1486. The fire damaged vehicles and threatened homes as it grew to 27 acres, bringing fire crews from the Montgomery, Magnolia, Plantersville and Richards Fire Departments to the scene, along with dozers from the Texas & Forest Service.
An initial investigation ruled out outdoor burning but did not identify a cause for the fire. As the investigation continued, a Montgomery Fire Department Battalion Chief reviewed aerial footage and identified a separate fire area near the main body of the fire. He confirmed that thunderstorms had passed through the area 4-5 days before, bringing lightning and nearly 1" of rainfall that Tuesday and Wednesday. Utilizing a Weather Service Lightning Strike report he sent Montgomery Firefighters back to the scene, to check the coordinates of two lightning strikes in the area. The fire crew found where the lightning strikes had started small fires that smoldered and crept along the forest floor for several days before breaking out as the area dried out again.
This scenario has been a common theme across east Texas this summer and is a good example of just how dry our area has become. While any rainfall is certainly welcome, our increased fire danger will remain until we see significant soaking rainfall across the County.
Residents are encouraged to check first before burning and refrain from burning anything until conditions improve and the burn ban is lifted.
https://tfsweb.tamu.edu/TexasBurnBans/