/

/

UPDATE; RC Gallegos to compete with US Pizza Team in Chicago this week!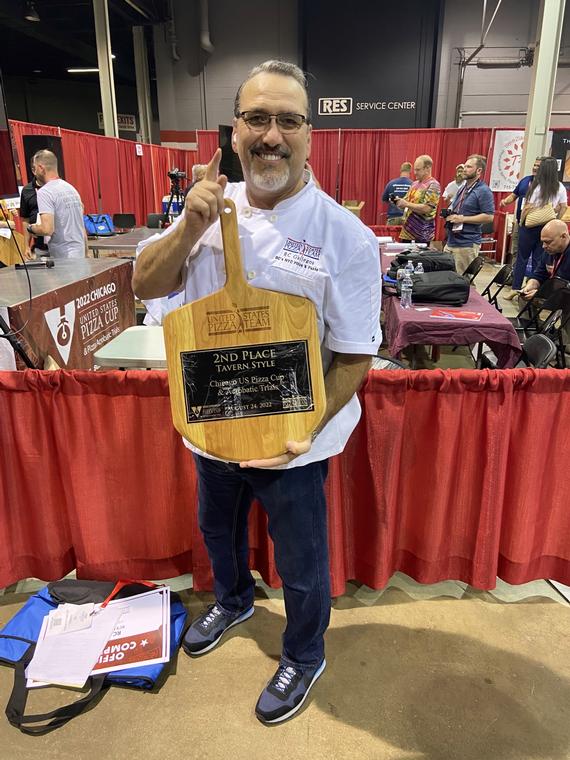 THE WOODLANDS, TX -- UPDATES AFTER COMPETITION:
2022 Chicago United States Pizza Cup Wednesday, August 24
RC competed with the US Pizza Team in Deep Dish and Tavern Style against 12 other participants- the majority from Chicago and placed 2nd overall!
Deep Dish: 4th Place Honorable mention
Tavern Style: 2nd Place
Overall score: 2nd Place
Before Covid hit the world and shut competitions down RC Gallegos competed with the U.S. Pizza Team in 2019 in Naples, Italy to become #8 in the World with his award-winning plain cheese pie at The Caputo Cup, Pizzaiolo World Championship. RC will compete Wednesday, August 24th in both the Deep Dish and Tavern Style categories with cash prizes, but the bragging rights in your venue carry the highest honor.
In November 2018 RC Gallegos was offered a spot on the US Pizza Team (USPT). Along with 18 other competitors competing in 55 categories, the USPT traveled to Parma, Italy, to compete in the 28th edition of the World Pizza Championship April 9-11. Only 2 members of the elite US Team are from Texas and RC Gallegos, RC'S NYC Pizza & Pasta, is the only representative from the Greater Houston area. The U.S. Pizza Team is back competing all year round in various trials across the country in anticipation of the World Pizza Championships. Once you make the team, you remain a member for perpetuity.
Competitors will have 30 minutes from start to "hands off" to judges including preparation and cooking. All ingredients, pans, utensils, and special equipment must be brought to competition floor. Judging will be based on the build, execution, taste, appearance and authenticity to the Chicago style and flavors.
RC owns and operates two RC NYC Pizza and Pasta venues, one at 1202 Kingwood Drive in Kingwood, and the other located at 501 Sawdust Road, The Woodlands, near Hobby Lobby. His award-winning gluten-free and regular dough is available for purchase at the NYC Pizza restaurants, as well as being sold to other local restaurants. Dough takes a pizza from okay to great with fermented yeast. RC's dough is a creative combination that ferments for up to 4 days.
'My Deep Dish pizza sells out when I post to my private Facebook group (RC's NYC Pizza The Woodlands "Secret Menu" Group) immediately", said RC. "I cook 80 pies every 3 months and once available they sell out orders within the hour! Tavern Style is thin crust pizza cut into squares and is not as filling-allowing pizza to be consumed with more filling items such as beer."