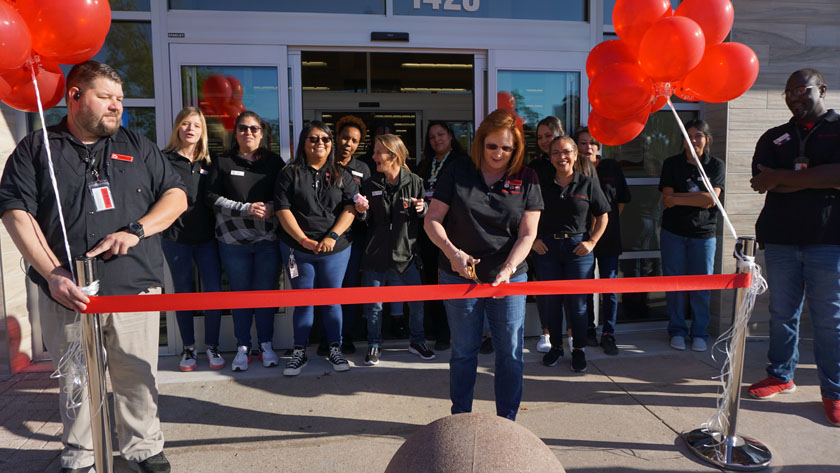 THE WOODLANDS, TX – Burlington, a major off-price retailer offering favorite brands for the entire family and home, opened a new store at 1420 Lake Woodlands Drive, site of the old Toys 'R' Us at Pinecroft Center. This is a relocation of the store that was previously located at 16590 I-45 South in Conroe. For the grand opening, shoppers were greeted with a ribbon-cutting ceremony and some special deals.
Employees and shoppers alike enjoyed grand opening and ribbon-cutting ceremony
On Friday following the ribbon-cutting ceremony, the first 200 adult customers enjoyed a $5 Bonus Card to be used toward their purchase. For Saturday, the first 200 adult customers will receive a Burlington WOW! Buck to scratch off and reveal a prize up to $250 and be used toward their purchase. And on Sunday, the customers will receive a free Burlington tote, while supplies last, no purchase necessary.
"Our goal is to continue to offer communities great values on brand name merchandise for the entire family and home," said Michael O'Sullivan, CEO of Burlington Stores, in a statement. "We're continuing to expand our footprint across the country and are excited to be relocating a store to The Woodlands. We look forward to giving local customers the chance to discover fantastic prices on a wide range of products."
Rycky Andres is the new store's manager, bringing with her decades of experience in the retail industry. She's still enjoying her Woodlands house that she bought a couple of years ago.
"I've been with Burlington for seven years; I was previously with Macy's and – before that – Foley's for 28 years. When Macy's downsized, several people from the CEO on down came to Burlington and have loved it ever since," she said.
Burlington used to be a coat and dress factory in Burlington, New Jersey. The family that owned the company sold it, and the new owners started adding to the inventory. So, even though the retailer still carries coats, they dropped that aspect of the name to reflect their increased reach.
"Being a discount retailer in the economy that we have right now is very good. We're also one of the very few places that still offers layaway programs," she said. "Burlington is a company that is flourishing; we're one of the only retailers that are opening new stores each year. We're still growing, and we definitely value our associates."
To celebrate the grand opening of this new location and highlight their ongoing commitment to education, the retailer donated $5,000 to nearby Houser Elementary School through their long-standing partnership with the national non-profit organization AdoptAClassroom.org. Funds will be used to help teachers purchase the necessary materials for their classrooms so that their students can learn and succeed.
Liz Koehler, principal of Hauser Elementary, was delighted to receive the check from Andres and her crew at Burlington. "We are just so thankful for the donation from Burlington," she said. "Our teachers work extremely hard in their classrooms; they put a lot of money into making them a fun place and great learning environment for their kids. I know they're going to be extremely appreciative of this donation."