/

/

Peter Huntsman Endorses John Anthony Brown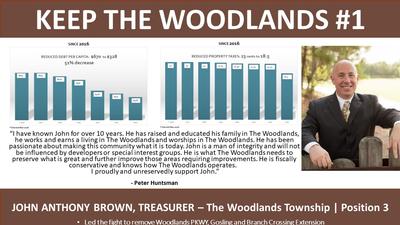 THE WOODLANDS, TX -- I began my community service upon my arrival in The Woodlands. I was elected to the Alden Bridge Village association in 2011 and still serve as an area representative. I ran a charity golf tournament benefiting the Village Associations charity, volunteered for many outreach programs for Interfaith and the Montgomery County Food bank through Huntsman, assisted with mucking homes during Harvey and have been mentoring students and scouts with any Township questions.
The Woodlands Township Board of Director
2019 - Leadership Montgomery County Graduate
2016 - Present - Treasurer, The Woodlands Township Board of Directors
2016 - Present - Vice Chairman, Visit The Woodlands
2015 - Nominated Volunteer of the Year
2011 - Present - Alden Bridge Village Association Area Representative
Also served on The Woodlands Township Design Standards Committee for 4 years, as well a myriad of Township committees, such as Budget Task Force, Audit and Investment Committee, Law Enforcement advisory Committee and Economic task force.
It has been an honor to serve this community and dedicate myself to being a man of integrity. I have worked hard to make The Woodlands the number 1 place to live 2 years in a row. I am proud to have an endorsement from such a man of respect and integrity.
"I have known John for over 10 years. He has raised and educated his family in The Woodlands, he works and earns a living in The Woodlands and worships in The Woodlands. He has been passionate about making this community what it is today. John is a man of integrity and will not be influenced by developers or special interest groups. He is what The Woodlands needs to preserve what is great and further improve those areas requiring improvements. He is fiscally conservative and knows how The Woodlands operates.
I proudly and unreservedly support John."
- Peter Huntsman