/

/

TMR Rescue, Todd Mission Ranch Rescue is on a mission to give donkeys and mules their rightful place in the history books
TMR Rescue, Todd Mission Ranch Rescue is on a mission to give donkeys and mules their rightful place in the history books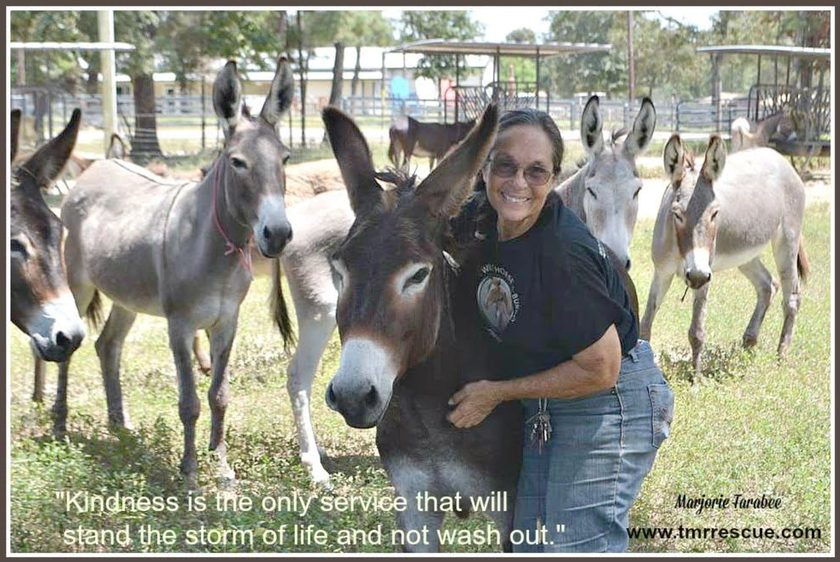 THE WOODLANDS, TX -- Todd Mission Ranch Rescue is home to over 400 rescued donkeys, mules, and horses, both wild and domestic. Their Texas Miracle Ranch began when owner, Johnny, was accidentally knocked unconscious by his spooked horse. When he came to, Gary, a donkey from his ranch, was curled up next to him in a protective nature.

The rescue center was then created to save and care for donkeys, mules, and horses in need, as well as to change long held misconceptions about longears (donkeys and mules). Aside from providing their equines with veterinary needs, nutrition, rehabilitation, compassion, and love, TMR Rescue also works closely with veterinarians to promote the education of donkeys and mules in medicine.

"Although donkeys and mules have been domesticated 6,000 years and have been helping civilization and mankind for 6,000 years, they are medically grossly underrepresented," said Marjorie Farabee, Director of Equine Knowledge and Development.

The center created Charlie's Haven Longears Medical Center in honor of their beloved donkey, Charlie, that was born with what ultimately turned out to be a fatal birth defect called a 'shunt'. Their hope is to inspire owners to provide their veterinarians with a clearance letter that will allow them to release records on individual donkeys they have treated. These cases will be uploaded to a cloud server and sorted into categories. This will in turn help to fill medical gaps.

Also underrepresented, is the affection donkeys have towards humans, their intelligence, as well as their life expectancy. Donkeys live 35 to 45 years, and many of the animals the center receives are senior donkeys that can no longer be of productive use to their owners. The rescue center also works closely with The Montgomery County Sheriff's Department to court and seizure abused animals in the area.

"Many of them are not socialized. They've never had their feet touched, they've never had their teeth cleaned, they've never received any vaccines, they've never been wormed … they are feral, and that's what we have to deal with," Farabee said.

After an initial quarantine period and vet visit, these more or less neglected animals are introduced to the herd. "Just seeing other donkeys being friendly, coming up and getting treats, they tend to warm up and we can get one turned around pretty quickly," Farabee said. "Donkeys that have been abused, that's another story … we've had donkeys take five years to bring around."

Though the timeline may differ, their goal with each donkey is the same; to get them healthy, happy, and eventually adopted into a forever home where they can receive the individualized care and attention they deserve.

"You know, as much as we would like to believe that this is a perfect home for donkeys, the happiest that that animal will ever be, is to be able to get into a family," Farabee noted.

Read more about this unique organization at tmrrescue.com

Click here to donate, as well as to inquire volunteer and sponsorship opportunities.