/

/

Lone Star College Board of Trustees expand internship opportunities for lifePATH® Program
Lone Star College Board of Trustees expand internship opportunities for lifePATH® Program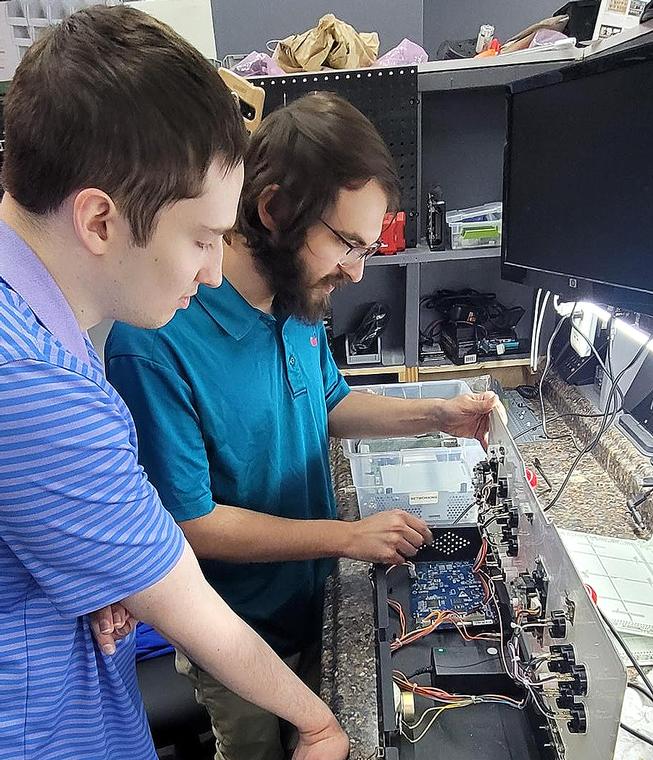 HOUSTON, TX -- Lone Star College offers a variety of programs for everyone regardless of their background, life experiences or educational and career goals.

The LSC lifePATH® Program is a four-year program that provides academic, social and career skills to students with cognitive disabilities. Recently, The LSC Board of Trustees unanimously approved lifePATH® to enter new partnerships to provide students with more internship opportunities.

"The lifePATH® program is a robust, customized educational pathway approved by the Texas Higher Education Coordinating Board to provide students more alternatives and earn an Occupational Life Skills associate degree," said Lee Ann Nutt, Ed.D., LSC-Tomball President. Nutt was instrumental in the program's creation.

The lifePATH® Program, which started at LSC-Tomball and now offered at LSC-Montgomery, has 124 enrolled students. Those who complete the entire program will earn an Occupational and Life Skills Associate Degree and a Business Operations Certificate.

The Board's new affiliation agreements opens the doors for program students at LSC-Tomball to work at various community organizations such as Sam Houston State Memorial Museum, Harris County Precinct 4 Parks, city of Tomball IT Department, city of Tomball Tourism and Harris County Library.

"These new opportunities will open doors for our students to intern in areas that are career interests for them," said Anne Ginnett, LSC-Tomball lifePATH® Director. "These experiences allow students to gain soft and hard skills necessary for their chosen industry."

At LSC-Montgomery, current employment partnerships include Family Promise, Margaritaville on Lake Conroe, Adventure Begins, Interfaith of the Woodlands and The Repair Mob. The LSC Board's decision will create an opportunity for lifePATH® students to work at Spring Creek Nature Preserve as interns. Their responsibilities will include the following:

• Maintaining wildlife enclosures

• Assisting trail maintenance crew in maintaining three miles of hiking trails

• Engaging with community members and sharing conservation efforts

• Helping develop outdoor curriculum for public schools

"Our students interested in forestry will collaborate with the Spring Creek Nature Preserve to develop an energetic outdoor experience that will enrich their knowledge and skills," said Montisha Hines Goosby, LSC-Montgomery lifePATH® Director. "This is a perfect opportunity to pair Spring Creek Nature Preserve with our students who are passionate about conservation."

Students in lifePATH® are selected as part of a cohort and remain together for all classes during the first two years. In years three and four, they can continue to take lifePATH® core classes as a cohort or enroll in general education credit courses. Along with taking courses and working as interns, program students create various projects displayed at the Gallery Walk, an Open House event open to the community:

• LSC-Tomball: April 14 from 2-4 p.m. in the Beckendorf Conference Center

• LSC-Montgomery: May 5 from 10 a.m.-noon in the Maverick Conference Center

"lifePATH® helps young adults, like me, learn new skills and teaches us how to get started in life," said Kaylee Whitsett, lifePATH® graduate and current LSC-Tomball student. "The program teaches you enough to know how to do it, even if that means you need some extra help."

Whitsett enrolled in lifePATH® at LSC-Tomball in summer 2018 to begin her college journey and developed valuable lessons such as social and study skills and a good work ethic. She completed the program in May 2022 and is taking classes to earn an associate of arts degree in May 2024.

"My experience in lifePATH® was amazing. The professors and staff treated us with the utmost respect and adapted their teaching styles to our disabilities to ensure that the lectures worked for everybody," Whitsett said. "This program helped me realize my strengths, showed me how to achieve them and taught me to advocate for myself."

After LSC-Tomball, Whitsett plans to attend a four-year university, major in technical theatre and earn a bachelor's degree in Fine Arts. Her career goal is to work as a prop master at a major theatre in Houston.

The lifePATH® Program at Lone Star College helps neurodiverse students develop valuable skills such as independence, self-determination, career exploration and other abilities needed to succeed in the world. Visit LoneStar.edu/lifePATH for more information.