/

/

Montgomery Music in the Park - Much More Than Your Typical Music Festival!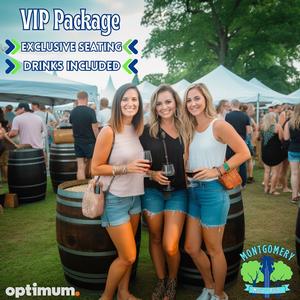 MONTGOMERY, TX -- Brace yourselves for an electrifying event that's set to ignite the town with pure excitement and entertainment! The Montgomery Area Chamber proudly presents 'Montgomery Music in the Park,' fueled by the energy of our presenting sponsor, Optimum. Mark your calendars for Saturday, September 16, 2023, from 2:00 pm to 10:00 pm, as we take over the breathtaking West Montgomery County Park, nestled at 16716 FM 149, Montgomery, TX 77356.

Prepare to be blown away as our Main Stage boasts a stellar lineup of local music sensations, ready to rock your world:

• 2:30 pm – 4:00 pm: The sensational Trey Gauthreaux

• 4:30 pm – 6:00 pm: The electrifying Payton Howie

• 6:30 pm – 8:00 pm: The country sensation Hayden Haddock

• 8:30 pm – 10:00 pm: And the grand finale, the Chad Cooke Band as our Headliner!

Montgomery Music in the Park' welcomes music enthusiasts of all ages to partake in this sensational celebration. Get your groove on with general admission tickets, priced at just $20 for adults (age 13 and up), $10 for kids (age 4-12), and a heartwarming bonus—kids 3 years and under get in absolutely free!

But hey, the excitement doesn't end there! For those craving an elevated experience, our VIP area will indulge you in the ultimate music extravaganza. Picture this: premier seating, 2 drink tickets, complimentary snacks, and a bar stocked with festival drinks that will leave you mesmerized! Plus, an exclusive menu featuring Frozen Margaritas that will have you dancing with joy! As a VIP ticket holder, you'll also get to mingle at the Exclusive VIP Tent and catch all the action of College Game Day in the Sponsor Tent. And guess what? We've got you covered in style with our fancy potties—yes, indoor and air-conditioned!

Wine and craft beer lovers, listen up! Prepare to be amazed at the Wine Garden and Craft Beer Garden, where you'll discover an extraordinary selection of local and regional wines. Take flight with wine tastings of four delightful 1.5oz pours or soar high with craft beer tastings of four tantalizing 4oz pours, brought to you by none other than the amazing B-52 Brewing, right here in Conroe, TX! And for a taste bud party, savor our Wine Slushies featuring Signature Red, The Frosé, and the refreshing Mango Cooler (non-alcohol)!

But wait, there's more! We've designed this event with families in mind. Our dedicated children's area is a haven of joy with bounce houses and engaging kid stations, where parents can join in the fun. And guess what, furry friends? You're invited too! Our event is dog-friendly, but please keep those tails wagging on a leash and clean up after your adorable companions!

And yes, this spectacular event comes with mementos! Festival merchandise awaits you at the Merch Tent, so you can take home souvenirs of this unforgettable experience. For all the essential details and FAQs, head to our website and prepare for the time of your life!

To make 'Montgomery Music in the Park' an absolute triumph, we need the support of fantastic vendors, including Boutique Trailers and tent canopy vendors. Come and be part of this extraordinary experience!

But that's not all! We want this event to resonate with a pulsating beat, so we're calling out to all the enthusiastic volunteers out there! As a volunteer, you'll get a festival t-shirt and a complimentary entrance to this musical extravaganza. Each shift is 2.5 hours of pure fun and high energy!

For businesses looking to maximize brand exposure, this is your chance! Become a sponsor and have your brand shine alongside this sensational event.

So, here's the big news, folks: Join us at 'Montgomery Music in the Park' and make memories that will last a lifetime! Get your tickets NOW at https://MoCoMusicInThePark.com and let's turn this town into a music-filled paradise!