/

/

Pavilion to Host 14th Annual Children's Festival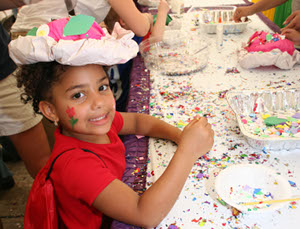 THE WOODLANDS, Texas – A Giant Purple Dinosaur, the Can-Do Crew, Sir Isaac Newton's Brain, Billy Jonas and more can be found at The Cynthia Woods Mitchell Pavilion's 14th Annual Children's Festival. The focus of Children's Festival is on the performing and visual arts for children, which includes live performances by award-winning entertainers and local children's groups, hands-on activities, arts, crafts, and more.
The festival will take place Saturday, Nov. 14, from 10 a.m. – 5 p.m. and Sunday, Nov. 15, from noon – 5 p.m. Admission is $6 per person in advance or $8 per person at the door. Children under 2 are admitted free of charge. The daily admission fee includes every show and activity, so parents don't spend the day dealing with tickets, tokens or endless lines.
Entertainers
Get ready for a super-dee duper time with everyone's favorite purple dinosaur, Barney™, as he brings a celebration as big as kids' imaginations to the Pepsi Main Stage with three interactive sing-along performances (Saturday only). From paving roads to building a whole new town from the ground up, there's no challenge too great for Bob the Builder™ and his Can-Do Crew as he takes the stage (Sunday only) for three sing-along performances. Mad Science® presents Newton's Revenge 2, the spectacular live stage show that awakens Sir Isaac Newton's brain after 300 years of sleep. Professor Pruvitt and Crash attempt to demystify the fundamental Laws of Motion by investigating the principles of inertia, acceleration, actions and reactions. Through sing-alongs, bang-alongs and whisper-alongs, the Billy Jonas Band takes the audience on a journey through life while exploring themes of planet care, recycling, creativity, self-discovery and community. And Kaminari Taiko of Houston mesmerizes the crowd with its unique, high-energy performance that rocks the stage with excitement (Saturday only). See the attached "Children's Festival Performers" for the complete Pepsi Main Stage schedule and more information about each artist.
Activities
In addition to performances by professional entertainers, festival activities include hands-on arts and crafts, games, costumed characters and more in our amusing creative zones. The Wells Fargo Fun Zone features a performer meet and great area, along with performances on the Market Street Community Stage. Each day of the festival ends with the Festival Finale Kazoo-Dah Parade, sponsored by Guadalajara Hacienda, that begins and ends in the Fun Zone.
Huggies® Little Movers Adventure Zone features the Huggies® Little Movers Activity Tent and Lounge where moms and tots can enjoy an interactive play area that allows little ones to move, crawl or scoot freely over a baby-friendly terrain of mock mountains, ski slopes and bridges. Adjacent to the Huggies® Little Movers Activity Tent is a lounge for you to relax and tend to your baby's needs. Don't forget to check out the other exciting activities in the Adventure Zone including Mad Science of Houston's Slippery Slime booth, hat-making, face painting and Radio Disney's Party Patrol with games, prizes and more.
The festival's Healthy KidZone features health, fitness and nutrition-related activities for children, such as interactive play with Children's Memorial Hermann Hospital, Texas Children's Pediatric Associates, Houston Northwest Medical Center, I-9 Sports, the Dojo Experience, South Montgomery County YMCA, Young Chef's Academy, The Health Museum, North Houston Water Polo, ATA Martial Arts and more. The Healthy KidZone stage features demonstrations by martial artists, eye-popping performances by the World Class Rope Skippers and more.
The Woodlands Convention & Visitors Bureau Activity Tent features fun, hands-on activities organized by area businesses including fishing for prizes with The Woodlands CVB, "Be a DJ" with K-STAR Country, boomerang art with The Kangaroo Forest Early Childhood Center, photos with the Sugar Plum Fairy from Houston Ballet's "The Nutcracker," Q-tip painting with The Kid's Directory, a coloring contest with Houston Family Magazine and many others.
Houston Community Newspapers' Arts Alley is a place where children learn about the elements of art through creative, interactive activities. They learn about lines, colors, shapes, patterns, unity, balance and more by using these elements to make imaginative creations they get to take home with them. Also featured in Arts Alley is paper play (paper-making) with The Woodlands Children's Museum, Do-A-Dot with The Schoolhouse Store and origami activities with Houston Community Newspapers.
Tickets
Tickets can be purchased at The Pavilion Ticket Office Monday through Friday from 10 a.m.-5 p.m., all Ticketmaster locations, online at ticketmaster.com, by calling 713 629-3700, or the day of the event. Picnics are welcome, but beverages can not be brought into the venue.
Parking
Preferred parking is available in the on-site Town Center Garage, located along Six Pines Drive. Parking is $5 per vehicle for this and most performing arts events. Tickets for on-site parking can be purchased in advance at all Ticketmaster locations and The Pavilion Ticket Office. Guests also may park in any of the five free parking lots on the southwest side of The Pavilion. The free, color-coded lots are connected to The Pavilion by corresponding pathways with signs leading across The Waterway.