/

/

Interfaith's Veggie Village delivers first harvest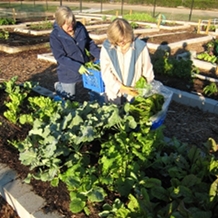 THE WOODLANDS, Texas -- At the first harvest for Veggie Village on Oct. 13, Beth Frantes and Heather Wasaff delivered 6 pounds of Swiss Chard to the Interfaith Food Pantry. What made this particular delivery special is that the beautiful greens were the first harvest grown in Interfaith of The Woodlands' new community donation garden, Veggie Village. After two years of planning, volunteer and donated labor and contributions from grants, civic groups and hundreds of concerned residents, the donation garden is now coming to life in the form of nourishing fresh food for our neighbors in need.

Veggie Village is located in the Alden Bridge Sports Park on College Park Drive. The primary goal for Veggie Village is to produce fresh food, using organic and sustainable gardening practices, for the Interfaith Food Pantry. In addition, Veggie Village will provide a place where members of the community, including elderly, disabled and children can work together with this natural habitat and offer education in sustainable living, gardening, environment care, nutrition and cooking skills.

Volunteers, both individuals and groups, are still working on several important tasks and ongoing projects. These include construction of a garden shed and arbor, irrigation, accessible garden beds, educational materials, distribution procedures, gardener orientation, and fundraising. To learn more about Veggie Village, please visit Interfaith's website or contact Sylvia Campbell.