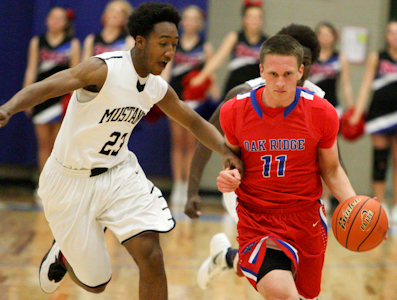 THE WOODLANDS, Texas – The Woodlands High School boys' basketball team held off Lufkin 57-45 at home Tuesday. The No. 17 state-ranked Highlanders rolled out to a 31-17 lead at halftime on the Panthers and then made 26 second-half points stand up.

The victory pulled the Highlanders (26-3, 7-1) to within a game of the frontrunners College Park High School boys' basketball team. The Cavaliers (24-6, 8-0) had the night off.

The Woodland continued to use a formula of tough defense and clutch 3-point shooting in the absence of leading scorer Nolan Cass (broken wrist). The Highlanders offense sputtered at times without him.

"At times it did. At times we looked really good," Highlanders coach Dale Reed said. "I think it's certain rotations. There were times when we executed great and we ran some good sets, executed them perfectly. Then there were other times when we got a little stagnant.

"I think fatigue hit us a little bit. Lufkin plays really hard and they guard really hard. It's hard to get open looks and it takes a lot of energy to find open shots."

However, the Highlanders fought through it much to the delight of Reed.

"Every time Lufkin made a run, made it interesting, we stepped up and made another run for us," he said. "I think it's desire to win the game. I think it's playing at home and more at our comfort level.

"We answered every time. That makes a great team if you can answer after somebody's best shot."

When the Highlanders will be able to answer at full strength is the question. Cass has been sidelined since the College Park loss Jan. 17.

"Hopefully we'll get him back," Reed said. "He could be out for the season and he could be out a couple of weeks. We just don't know."

Brian Baehl and Timi Adeleye were among those stepping up on Tuesday.

"Defensively we made some great plays and I thought some kids made some big shots. Baehl sticks out," Reed said. "We ran a couple of sets for him and he hit a couple big shots."

Baehl scored 12 points to go along with Garret Colonna, the game's high-scorer with 15 points.

The Highlanders had things going their way early, racing out to an 18-7 lead at the quarter before keeping the Panthers at arm's length for most of the evening.

The Highlanders visit Oak Ridge for a 7 p.m. Friday game.

The War Eagles dropped a 60-54 overtime decision Tuesday at Atascocita. Brent Burress scored 12 points and Oak Ridge roared back from a 12-point fourth-quarter deficit on the road with a 19-7 run to send the game into overtime.