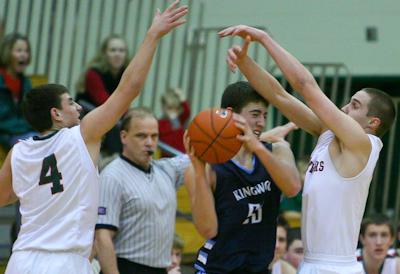 THE WOODLANDS, Texas – The Woodlands High School boys' basketball team dialed up long distance Tuesday night, and there was no answer. The No. 16 state-ranked Highlanders (27-4, 8-2) connected on just one of 23 3-point attempts and fell 38-35 to Kingwood.

College Park, ranked No. 15 in the state, needed a 30-point third quarter to avoid similar results. The Cavaliers (27-6, 10-0) clinched at least a share of the District 14-5A championship on Tuesday, overcoming a 34-24 halftime deficit at Atascocita. The Cavs exploded for a 30-7 third-quarter run to take control and win 66-57.

Kingwood put somewhat of a damper on The Woodlands-College Park II battle Friday by extending an 8-6 first-quarter lead into a 21-13 advantage over the Highlanders at halftime. The Mustangs shot 45 percent from the field while The Woodlands hit just 20 percent.

It was 30-22 entering the fourth quarter and the Highlanders' furious rally fell short. Josh Seagren scored early in the fourth quarter to cut the deficit to 30-26 and Garret Colonna converted a 3-point play with 3:59 remaining to draw the Highlanders to within three at 31-29.

Joey Trinkle tied the game at 31 with a nice move inside but the Mustangs went on a 5-1 run to regain the lead. Brian Baehl hit the Highlanders' only 3-pointer of the night with 30.6 seconds remaining to make it a one-point game. But The Woodlands could never get over the hump.

It appeared for 16 minutes that the Cavaliers would suffer the same fate. But Evan Cooper poured in 31 points and Zach Wright added 15 more as College Park stormed back.

The Cavaliers enter Friday's big rematch with a two-game lead over the second-place Highlanders.