/

/

Anni's Story: How one cancer-stricken teen from China came to Houston and found help in unlikely places
Anni's Story: How one cancer-stricken teen from China came to Houston and found help in unlikely places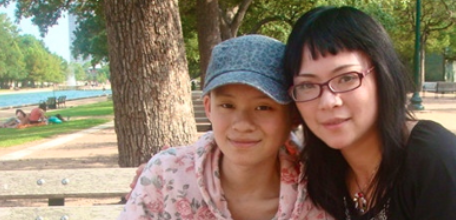 SPRING, Texas –– Anni Wan was given three months to live.
Wan, 16, stayed in Spring, received help from the office of Congressman Kevin Brady.
The 16-year-old found herself in a military hospital in Chongqing, China, and doctors had run tests on a growth on her chin.
It was cancer, a rare form of it called Rhabdomyosarcoma, or sarcoma for short, that doctors in China did not know how to treat. Six months to live at the most, maybe, but it was certain death they told her in May of last year.
Her mother, Xu Ling, scrambled for help. What ensued would be a life-altering experience that would see them raise hundreds of thousands of dollars to cover medical bills, flying to Houston, battling visa issues that would have ended treatment and the intervention of a Texas congressman that friends are saying saved Anni Wan's life.
Happenstance in China
Michael Blair, an English teacher with WEB International English, first moved to Texas in 1976. Originally from St. Louis, Mo., he found work in the Dallas-Fort Worth area and stayed for years before traveling the world. Six years ago he saw a listing for a job in Chongqing and he applied. He got the job and moved to China to teach English.
One day a student came to him; a local television producer was looking for an English-speaking Westerner to be on TV. He had done some similar work before so Blair agreed and met with the producer, Xu Ling.
He became friends with her father and Anni's grandfather, Xu Xiong, a former Communist Party official who knew with the likes of Deng Xiaoping, the Sichuan native who was the de facto party leader from 1978 to 1992.
Blair heard the news when Anni Wan went to the hospital and when doctors found she had cancer on the left side of her chin. He also knew that cancer treatment in the U.S. is more advanced than what can be found in even the best hospitals in mainland China. The one place that came to mind: MD Anderson.
"Living in Texas, we've all heard of MD Anderson," Blair said. "They're world-renowned, when you think of cancer, it's one of the first things that comes to mind."
Doctors in China helped Blair smuggle Anni's medical records and he got in touch with doctors in Houston that wanted to see her right away. Blair was able to get Anni a passport in one day and a visa in two days. It was a one-year visa that allowed for multiple entries into the U.S.
Blair and the doctors figured Anni would only need three months in the U.S. for treatment and the immigration officer that handled their case gave her six months.
But things changed drastically when she walked into MD Anderson Cancer Center in Houston last June. Doctors ran their tests and found treatment would require a year. The doctors in China had found the cancer in Anni's chin but had failed to notice cancer in her spine.
Time is running out
Anni, her mother and Blair were staying in an apartment in Spring that was donated to them. They drove a car that was generously donated as well. But they needed a visa extension or else they would be forced back to China, where Anni would likely have not survived.
Blair said he filled out visa extension paperwork and sent it in. But it wasn't in the system when he called to check up on the status. So he did it again. Then again. But it still wasn't in the system.
Time was running out. About four days before the visa was set to expire in December, Blair said he couldn't take it anymore. He found out his local Congressman was Rep. Kevin Brady (R - Texas), so he called Brady's office.
Xu Ling and Anni Wan were scared before Blair ever contacted Brady's office though.
"Trying to speak to a government official like that, or trying to walk into his office, in China could result in a severe punishment," Blair said. "But I told them that we're in America now and we can do these sorts of things here."
They never spoke to Brady, who was in Washington D.C. at the time, but did speak with Janet Qureshi, his case management director. A few phone calls later and the wheels were in motion.
"[Xu and Wan] were so scared the night before we went to Kevin Brady, they didn't sleep a wink," Blair said. "But after the people at his office said they would help, they cried like babies. They understood and they had so much empathy for us."
Blair found out while working with Qureshi that their visa extension request had been denied. Brady's office worked to help change that.
About a week later they had a new visa.
"Our office works directly with the agency that handled this and once we explained to them how dire this was, we were able to expedite the extension process," Qureshi said.
As a case management worker, Qureshi said she reports her work directly to Congressman Brady, who can "knock on some doors in D.C." if necessary to get answers or help with cases. Last year Brady's office had the highest caseload of any Houston congressional delegation.
"Congressman Brady stepped up to the plate," Blair said. "He helped these people, who aren't even American, but it's not about nationality, it's an issue of humanity."
Outstanding balance
When Anni first came to Houston, the estimated costs of the treatment topped out at about $47,000. But that was before doctors found cancer in her spine that would require more treatments, such as radiation and medicine.
The bills soon jumped to $450,000.
Anni's grandfather, who she speaks to on the phone every night, began using his social clout, known as guanxi in China, to start raising money. Since he is in his early 80s, he had been known to a lot of people for a long time, Blair said, but he wasn't rich.
"Despite being in the Communist Party, he never took the bribes," Blair said. "He's one of the most honorable people I've ever known and for him to do this, he was sort of losing face in a sense."
Face wasn't as important as Anni's health though. Her grandfather asked for help from people he knew and soon began to raise thousands of dollars. Some of Blair's students in Chongqing dressed up as Santa Claus and asked for donations on campus. They raised a few more thousand.
A group of donors in Hong Kong, that wished to remain anonymous, sent $200,000 to pay for Anni's bills. Blair and Xu have managed to pay MD Anderson about $300,000 in medical bills but still owe $150,000 to the hospital.
Anni though, has been given a clean bill of health.
"In May we're going to leave here with a healthy little girl," Blair said.
The long and winding road
It's been an eye-opening experience for Wan, Xu and Blair.
"We've met so many kind people here in America," Xu said. "We're very grateful to the people who have helped us. This will change my life."
Xu Ling said when she first heard the diagnosis that the idea of her embarking on this journey didn't occur to her.
"I didn't expect anything like this could happen," she said. "There was no hope there, the doctors in China said they couldn't help."
Xu had two doctors here waive fees after they heard of her plight. First, a cyst on her abdomen started growing so she had it removed. The doctor didn't charge her. Then she had to go to a dentist. Again, the dentist didn't charge her and said the care was "on the house."
"We didn't ask them to do that," she said.
To ease Anni's mind, Blair and Xu have taken Wan to see sights in Houston, such as Galveston, Hermann Park and Chinatown on Bellaire Boulevard. They even made a road trip to St. Louis. The Make A Wish Foundation has also decided to send Anni to Greece and Italy for a 10-day vacation in May.
Anni, speaking through her mother as a translator, said she's been changed by the experience.
"There are so many kind people, loving people out there," she said through her mother. "She thinks now that she can survive."
To donate to help Anni Wan, residents can make payments to a fund set up by her family or to MD Anderson Cancer Center directly:
Fund
American First National Bank
9999 Bellaire Blvd
Houston, Texas 77036
Account Name: Xu Ling
Account Number: 939327
MD Anderson Cancer Center
MD Anderson Cancer Center
P.O. Box 4461
Houston, Texas 77210-4461
Anni Wan, Medical Record Number: 883851