/

/

Ai Weiwei sculptures on display March 3 in Houston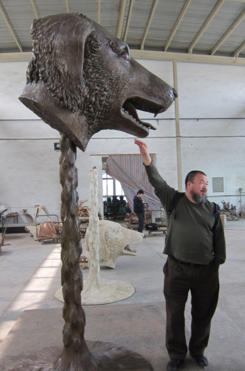 HOUSTON –– An 18th century imperial retreat near Beijing and Houston's Hermann Park may seem too far apart in space and time to have anything in common, but from March 3 through June 3, renowned Chinese artist and dissident Ai Weiwei will present sculptures in Houston.

The Houston Arts Alliance unites the two worlds with the first major public sculpture by contemporary artist Ai Weiwei, titled 'Circle of Animals / Zodiac Heads,' to be on view outdoors at Hermann Park near the southeast corner of McGovern Lake.

HAA's presentation of Ai Weiwei's work will be the only South and Midwest venue on the work's international, multi-year tour, which is making just six domestic stops.

The exhibit is made up of 12 monumental bronze animal heads, each weighing 800 pounds, and is Ai Weiwei's recreation, on an oversized scale, of the traditional zodiac sculptures that once adorned the fabled fountain-clock at Yuanming Yuan (Old Summer Palace) outside Beijing. Through his work, the artist brings to light questions of looting and repatriation, while extending his ongoing exploration of the "fake" and the copy in relation to the original.

Designed by two European Jesuits in the 18th century, the original animal heads surrounding the fountain-clock of Yuanming Yuan spouted water every two hours. In 1860, French and British troops raided Yuanming Yuan and the heads were looted. To date only seven of the legendary 12 heads have been recovered; the location of the remaining five is still unknown.

"Public art has the power to redefine our public spaces, stimulate dialogue and transform the way we experience art," said Jonathon Glus, CEO of Houston Arts Alliance. "Ai Weiwei's Circle of Animals / Zodiac Heads furthers our tradition of providing world-class exhibition programs in Houston outside the walls of museums and galleries for all to experience. Thousands from Houston and beyond will share in this culturally relevant experience, which helps build our city's visibility as an international arts center."

A leading figure in contemporary art and design, Ai Weiwei gained global recognition for his Bird's Nest stadium designed for the 2008 Olympic Games in Beijing, and this week he was commissioned to reunite with Swiss architects Herzog & de Meuron to make the Serpentine pavilion in London. He made even more headline when he was arrested last year by police after Chinese Communist media described him as a "deviant and plagiarist" that saw protests and petitions for his release.

The exhibition is presented by Houston Arts Alliance in partnership with City of Houston, Houston Parks & Recreation Department, Hermann Park Conservancy and AW Asia. The exhibit is scheduled to coincide with the April 14 – 15 opening of Asia Society Texas Center's stunning new Taniguchi-designed Texas headquarters, and, concurrently, Architecture Center Houston will exhibit Ai Weiwei's Five Houses, April 19 – May 25.