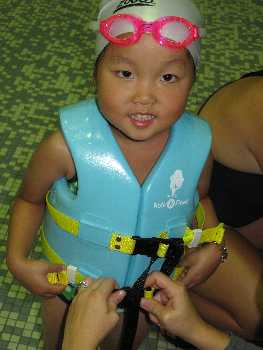 THE WOODLANDS, Texas -- Kids are buckled-up for safety in cars, but must also be buckled-up in life jackets when water is not too far. Life jackets must be worn in boats and open-water for safety, but pools need life jackets too. This summer note whether you child is a swimmer or non-swimmer and float non-swimmers in a properly-fitting U.S. Coast Guard approved life jacket. Drowning is the leading cause of injury and death for children ages 1-4 (CDC). Additionally, in a Pediatrics study, in 66% of fatal and non-fatal drowning the children were supervised at the time they slipped under the water.
Note & Float to prevent drowning as summer heats up
Active, touch supervision and swim lessons are absolutely essential. However, for those children who cannot yet comfortably and competently swim across the length of the pool, drowning preventative tools must be exercised. Life jackets are not a novel idea. Properly-fitting life jackets have been saving lives for decades. It makes perfect sense for life jackets to make a splash in swimming pools and keep children afloat, so they can become swimmers and delve in a lifelong enjoyment in, on, and around the water.
Note & Float children in Six Simple Steps:
1. Note if your child is a swimmer. Can he/she comfortably swim the length of the pool independently, without struggle?
2. Buckle-up! Buckle your child in an appropriately fitting Coast Guard approved life jacket. Life jackets aren't the burden they used to be. There are many newer, attractive and comfortable choices.
3. Don't let your guard down. Still always actively supervise your child, even in a life jacket.
4. Comfort is key. Life jackets help children who can't yet swim become comfortable in the water, which significantly helps in the learn-to-swim process.
5. Enroll your child in swim lessons.
6. If you can't swim , learn now!
References:
CDC - http://www.cdc.gov/HomeandRecreationalSafety/Water-Safety/drown-activities.html
1Shields, B.J., Pollack-Nelson, C., & Smith, G.A. (2011). Pediatric Submersion Events in
Portable Above-Ground Pools in the United States, 2001-1009. Pediatrics®.
Authors: Rachel Griffiths, M.A. and Tom Griffiths, Ed.D. of Aquatic Safety Research Group, dedicated to improving water safety for more than forty years through innovative research and education.