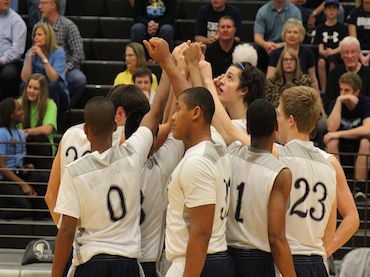 CONROE, Texas - The 2013-14 District 14-5A boys basketball All-district selections were made on Thursday. College Park led all schools with five selections, including Defensive player of the year in Brett Reed. The Woodlands had four players selected led by first-team selection Cody Mason. Bryan had three players selected and Oak Ridge had two selections, respectively.
College Park's Clifton McNeely named District 14-5A Coach of the Year
For College Park, Senior Keanu Andaya, Senior Tristen Newman, Senior Jayden Holden and Junior Brett Reed were named to the first-team all-district. Reed was named Defensive Player of the Year for the district. The Woodlands saw Senior Cody Mason named to the first-team, along with Oak Ridge Senior Trumaine Jefferson. Other first-team selections were Bryan Junior Quaylon Newton, who was also named District 14-5A Most Valuable Player. Conroe Senior Steadman Bell and Bryan Sophomore A.J. Lawson round out the first-team selections.
The Woodlands Highlanders placed Senior Zach Manning, Sophomore Cameron Burkett, and Senior Shane Moran on the second-team all-district. Oak Ridge Seniors Josh Meyers and Tanner Doyel were named to the second-team. College Park Junior Kyle Robertson, Lufkin Junior Keke Coutee, Bryan Junior Darius Ross and A&M Consolidated Sophomore Trey Pulliam round out the second-team selections.
Clifton McNeely was named District 14-5A Coach of the Year. McNeely led the Cavaliers to an undefeated district season at 12-0. College Park reeled off an impressive 25-game winning streak from December 6 until College Park was eliminated in the postseason in the Class 5A Region II Regional Quarterfinals against future district opponent Atascocita.
Bryan's Darius Ross was named District 14-5A Newcomer of the Year.