/

/

MCEA kicks off denim drive for teens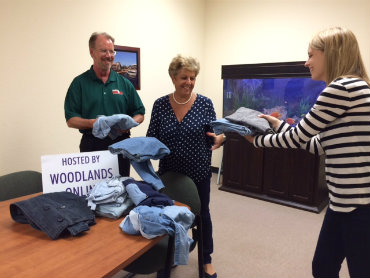 MONTGOMERY COUNTY, Texas -- Montgomery County Emergency Assistance (MCEA) kicked off their annual denim drive, collecting denim blue jeans for their back-to-school clothing project, in addition to 'gently-used' clothing for school-age children. The denim jeans are especially essential for teens returning to school this fall. Denim jeans are considered the one piece of wearing apparel that enables teens to 'fit in' with their peers.

"The teens need to feel a sense of belonging," said MCEA Director of Marketing and Development, Margie Taylor. "Something as simple as a pair of jeans can do that."

Often referred to as the 'forgotten age,' teens are often overlooked for clothing drives, and are more likely to have to do with less than students in elementary, intermediate, and junior high schools..

As a fashion statement, denim has 'weathered' the test of time, and the more 'weathered' the better; weathered as in comfortably 'broken in,' but not shredded or full of holes, per the Independent School Districts' dress code requirements.

Denim jeans can be dropped off at the following locations:

- MCEA office located at 1022 McCall in Conroe (77301)
- MCEA Unique Resale shop at 1717 N. Frazier in Conroe
- Montgomery County Association of Business Women (MCABW) monthly functions (For a list of all MCABW functions and locations visit MCABW.)
- GenuWine at 6503 FM 1488, Suite 401
-New Caney Fire Department at 19870 FM 1485 West, New Caney ( )
- Splendora Fire Department at 14088 Hwy 59 N. Splendora ( )
- Woodlands Online located at 33300 Egypt Lane, Suite B500 (77354)

Although there's a need for denim jeans, MCEA insists that there's a desperate need for clothing for all age groups.

"When you shop for 'back-to-school' clothes, please consider donating the out-grown clothes to MCEA," said MCEA Director of Marketing and Development, Margie Taylor. "We provide for the whole county, and the need is great."

For more information about the Montgomery County Emergency Assistance, visit their website at the link provided.