/

/

Russo's New York Pizzeria: Authentic pizza and Italian food close to home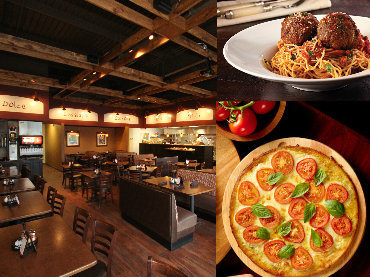 THE WOODLANDS, Texas - If you find yourself longing for authentic Italian food and New York style pizza, visit Russo's New York Pizzeria.

"We serve fresh, fine Italian meals and award-winning New York style pizza and calzones while providing a casual dining experience," said Guillermo Medellin, the franchise owner of The Woodlands and Conroe locations.

Russo's combines the simplicity of a Pizzeria with the freshness of a fine Italian restaurant. "We use fresh ingredients, all of our sauces and soups are homemade, and we make our own pizza dough and toss it every day," said Medellin.

In 2009, Medellin bought the Russo's location in The Woodlands, and he just opened his second location in Conroe this past July. With two convenient locations, Russo's is a great restaurant to enjoy delicious food with friends and family.

"Anthony Russo is the franchisor, chef and creator of all our delicious Italian recipes, and the concept of Russo's," said Medellin.

The Russo family started the business back in 1978 after their move from New York to Texas. This authentic restaurant uses recipes that have been passed down through many generations of the Russo family.

Some popular menu items at Russo's are the NY Village Pizza (supreme), fettuccine alfredo, spaghetti with meat sauce, lasagna, and the chicken marsala. This restaurant also offers a party pizza with a diameter of 28" that feeds 10-12 people! Medellin says some of his personal favorite menu items are the eggplant rollatini, chicken picatta, and the Spinach Artichoke and prosciutto pizzas.

It started when Medellin wanted to invest in a local business close to his family. He was a customer of Russo's prior to owning, and decided to buy Russo's in The Woodlands when the opportunity presented itself.

"Within the community, we constantly donate gift certificates, sponsor charity and Chamber of Commerce events, cater to schools and churches, and participate in community events," said Medellin. His third location will be coming soon at the Kroger Spring Marketplace at the corner of Kuykendahl and West Rayford.

Located at 3335 College Park Drive, Suite 300, Russo's New York Pizzeria and Italian Kitchen offers a wonderful environment and great Italian food. It is a great place to enjoy a meal with family or for a date night out. Stop by Russo's New York Pizzeria and grab a bite of fresh Italian food and a slice of your favorite authentic pizza.