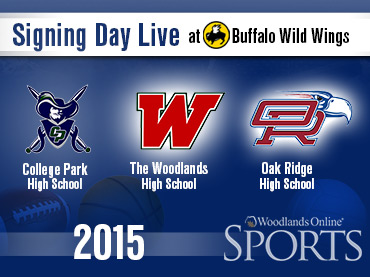 THE WOODLANDS, Texas - Woodlands Online announces Signing Day Live presented by Buffalo Wild Wings and Consolidated Communications, a live signing day recap show on all the signees from College Park High School, Oak Ridge High School, and The Woodlands High School, respectively.

The live broadcast will be on location from Buffalo Wild Wings in Shenandoah on Wednesday, February 4, beginning at 6:30pm. The broadcast will feature live interviews with coaches and student-athletes that are committing in various sports to play at the collegiate level and the what the recruitment process was like.

The broadcast can be seen live on any computer, iOS, or Android device by logging on to woodlandsonline.com. The broadcast will also be available to watch On Demand on Thursday, February 5.

Signing Day Live will have a complete recap of all the signees from signing day from football, volleyball, softball, baseball, soccer, as well as a recap from each school's signing day ceremony held on campus earlier in the day.

Woodlands Online congratulates all high school signees on their accomplishments to play sports at the collegiate level.