/

/

LMC Class of 2015 gets insight into healthcare in Montgomery County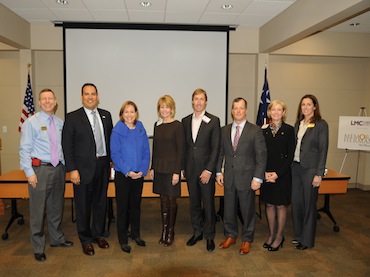 MONTGOMERY COUNTY, Texas - The Leadership Montgomery County (LMC) Class of 2015 recently explored healthcare in Montgomery County at their Healthcare Session, sponsored by Memorial Hermann The Woodlands Hospital.
Session Director Linda Nelson welcomed the class to the session and gave an overview of the day's events before Walter Wilkerson, Jr., MD presented the history of healthcare in Montgomery County.
Freddy Warner presented the class with legislative healthcare updates both on a local and national level. The class then got a look into the issues facing hospital CEOs in Montgomery County with the CEO panel, consisting of David Argueta of CHI St. Luke's The Woodlands Hospital, Matt Davis of Conroe Regional Medical Center, Melinda Stephenson of Kingwood Medical Center, Debra Sukin of Houston Methodist The Woodlands Hospital, and Josh Urban of Memorial Hermann The Woodlands Hospital. Each CEO spoke on a different topic, giving insight to real concerns and issues they face.
The LMC class learned about the role healthcare centers play in the community from Dr. Ann Snyder of Interfaith Community Clinic, Cindy Sunday Powell of Pregnancy Assistance Center North, and Dr. Stephen McKernan of Lone Star Family Health Center.
The class toured Memorial Hermann The Woodlands Hospital, including the TIRR Inpatient Unit. Class members were able to see neuro patients receiving cutting edge therapy. The class also toured the OR where Dr. Blevins, MD, Orthopedic Surgeon demonstrated the hospital's new MAKO robot used for partial knee or hip arthroplasty.
The class then heard from Evan Roberson of Tri-County Services, Randy Johnson of Montgomery County Hospital District, and Dr. Michael Bublewicz of Memorial Hermann The Woodlands Hospital ER. The day ended with Leadership Series facilitated by LMC alumni.
Leadership Montgomery County (LMC) is a 501(c)(3) nonprofit organization, dedicated to developing and enhancing current and future leaders of Montgomery County. The mission of LMC is to prepare emerging and existing leaders to understand local issues, grow their leadership skills and connect with others to better serve Montgomery County.
LMC is a joint project of the Greater Conroe/Lake Conroe Area Chamber of Commerce and The Woodlands Area Chamber of Commerce. The Greater Magnolia Chamber of Commerce, the Greater East Montgomery County Chamber, the Montgomery County Hispanic Chamber, and the Magnolia Parkway Chamber are also participating Chambers in the LMC program. Participants are chosen by application process in June of each year.
For more information about Leadership Montgomery County, please visit LMCTX.org.