/

/

2015 Charity Duck Derby July 4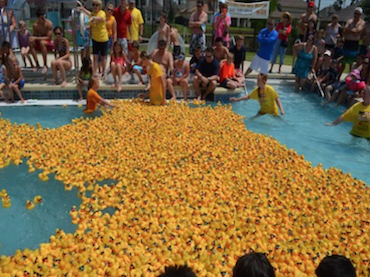 THE WOODLANDS, Texas - Montgomery County Emergency Assistance (MCEA) is delighted to host the 8th Annual Charity Duck Derby, Saturday, July 4th at the Rob Fleming Aquatic Center in The Woodlands, Village of Creekside.
Rob Fleming Aquatic Park to host event.
The fundraiser's highlight is the hilarious release of 5,000 yellow, numbered rubber ducks from the Aquatic Center's 2-story waterslide! The wacky tumbling Derby Ducks quickly make their way along a lazy river to win fabulous prizes for their adopted folks. This year's 1st Prize is a cool $2,500 cash; 2nd Prize is $1,000. And, the 3rd Prize is a wine lovers' delight: a Tasting for 20 donated by Bernhardt Winery.
"The compassion of major sponsors, the dedication of MCEA staff, Board members, and volunteers – as well as the generosity of those who contribute $25 per Derby Duck shares Heart, Hope, and Help with local families in need," said Executive Director Chad Patterson. "The charity has been helping our neighbors survive hunger, homelessness, and temporary set-backs for nearly 35 years," Chad added.
Derby proceeds go directly to assist low-income county residents with rent, utilities, food, clothing, prescriptions, child care and more. In addition, Montgomery County fire disaster victims are helped with lodging, case management, and other basic needs through MCEA. MCEA proudly recognizes Entergy as the 2015 Charity Duck Derby's Presenting Sponsor. Entergy partners with MCEA to assist clients with utility bills. The Power to Care supplement on Entergy bills is distributed by MCEA throughout the county to help the elderly and disabled with their bills. Other supporting sponsors include Yancey Ready Mix, Wiesner, Praxair, Consolidated Communications, Woodforest Bank, Kroger, Soules Insurance Agency, Spirit of Texas Bank, Braintek, Lamar Outdoor Advertising, Wright's Printing and Marketing, and James and Janet Stilwell. Sponsorships and Derby volunteer opportunities are still available.
For more information, click on link provided.