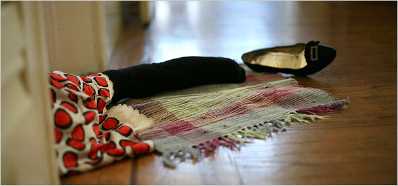 HOUSTON, Texas – It's the one time in life when being head over heels is not a good thing: falls are the most prevalent injury among the elderly and the leading cause of fatal injury. "There are lots of physical changes and health conditions that arise as we age. These can increase the likelihood of falling. On top of that, the medicines that seniors take for these conditions can cause dizziness and other side effects that contribute to the chance of falling," said Janet Alonzo of Continuity Care Home Health Care Agency.

Fear of an injury from a fall can end up controlling the lives of older adults. "When seniors purposely become less engaged in physical activities and social events because of their fear of falling, the immobility and isolation can lead to decline and depression," said Alonzo. "Ironically, it also makes them a more likely candidate for a fall."

Alonzo said the first step in becoming more fallproof is to talk to a doctor. Patients should tell their doctor if they've had a previous fall, even a minor one, since having suffered a previous fall puts an older person at risk for another. The doctor will review the patient's medications and current health situation. Ear and eye conditions can contribute to the likelihood of falling. A doctor may evaluate muscle strength, balance and a patient's gait, noting any dizziness, joint pain, numbness or shortness of breath caused by walking.

Alonzo also suggested five things seniors can do to bring their fear of falling to a standstill:


Don't just sit there. Keeping leg and foot muscles strong helps maintain control when walking. Alonzo suggested gentle exercise programs such as tai chi or resistance training using stretch bands. "Our healthcare team can design an in-home regimen that fits a patient's ability and improves balance and strength."

Wear smart shoes. Older adults should wear appropriate, supportive shoes both inside and outside of the home, said Alonzo. For some, that may mean giving up on longstanding footwear habits. (No more going barefoot or strolling around in flip flops or slippers.)

Fallproof your footpath. About half of all fall injuries happen at home. Alonzo said home health experts like Continuity Care can help seniors perform a safety assessment of their living environment and make suggestions for removing or repairing potential fall hazards such as loose carpeting and cluttered furniture. Modifying the bathroom with grab bars and nonslip mats along with adding handrails and proper lighting to stairways can also make a house more accommodating.

Use the Right Device. Alonzo said that seniors who rely on an assistive device for walking should not feel embarrassed about using it. Canes should be adjustable to fit the height of the user and should have a rubberized bottom to prevent slipping. Walkers come in many styles and sizes to fit different needs and should also be height adjustable. "We show our patients how to properly use their walking aid. It can take a bit of practice to get used to using one," said Alonzo.

Be Aware. Alonzo stressed that getting the information needed to plan a course of action is the key. "We're here to help educate patients about the issues that come with aging. When older adults have had a recent fall, we help them get back on their feet with physical therapy. We show them how to become more confident about their mobility and take back control of their everyday living."

Continuity Care Home Health Agency, LLC is a family owned and operated, fully licensed agency that is Medicare certified and JCAHO accredited, serving the Kingwood, Humble, Spring, The Woodlands and Houston area populations with compassion, dignity and respect. For more information on the agency or its services, visit www.CCareHomeHealth.com or call 281-348-2328.