/

/

The Woodlands Area Economic Development Partnership hosts quarterly partner luncheon
The Woodlands Area Economic Development Partnership hosts quarterly partner luncheon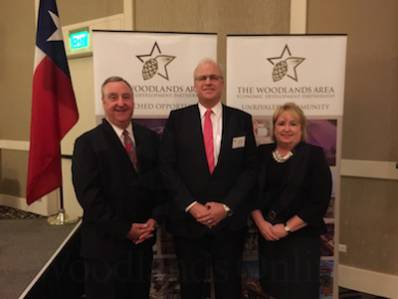 THE WOODLANDS, Texas -- The Woodlands Area Economic Development Partnership (EDP) recently held their Quarterly Partner Luncheon at The Woodlands Resort & Conference Center on Tuesday, October 13th. The presenting speaker was W. Mark Meyer, Managing Director & Co-Head of Research for energy investment and merchant banking firm; Tudor, Pickering, Holt & Co. Tudor, Pickering, Holt & Co., LLC (TPH & Co.) is an integrated energy investment and merchant bank, providing high quality advice and services to institutional and corporate clients. The company's broker-dealers offer securities and investment banking services to the energy community and provide research coverage on more than 170 issuers worldwide.

For the past eleven years, the EDP has held their luncheons for Partners in order to keep them informed of important issues facing businesses today. Past topics have included Economic Development, Regionalism, State of Education, Law Enforcement Update, Center for Houston's Future Scenarios 2040, Anadarko's Current and Future Projects, State Economic Development and Tourism, Banking Executives Update, Life Science Update, State of our Economy, Local Tourism and Healthcare. Gil Staley, CEO of The Woodlands Area Economic Development Partnership, said, "It was a privilege to hear Mr. Meyer provide his expert opinion on the outlook of the energy sector. As our largest employer group, Energy significantly impacts our local economy. It's no doubt that the decline in oil prices has affected us, however, Mr. Meyer's comments offered encouragement that oil prices will become better, sooner."

Partners in attendance at the luncheon were Amegy Bank of Texas, Aon Hewitt, Bank of Texas, Bayside Printing, BB&T, BBVA Compass, Black Forest Ventures, Bush Law Firm, Caldwell Companies, Calvetti Ferguson, Carr, Riggs & Ingram, City of Shenandoah, Community Impact Newspaper, CORE Lending, Corporate Incentives, Deutsche Bank, Efficient Wealth Management, Entergy Texas, Farner & Perrin, LLP., Fidelity Investments, First Finacial Bank, Frost Bank, Gallagher Benefit Services, Houston Methodist The Woodlands Hospital, Insight Financial Services, Jones Walker, Karlins Ramey & Tompkins, LLC., Kanaly Trust, Knighton & Stone, Kroger, Linscomb & Williams, LJF Marketing, Lone Star College, Lone Star Family Health, McKesson Specialty Health, MD Anderson Cancer Center, Memorial Hermann The Woodlands Hospital, Nexeo Solutions, Northwestern Mutual, Petroleum Wholesale, Prosperity Bank, Repsol USA, Sam Houston State University, Stibbs & Co., Stream Realty, The John Cooper School, The Kroger Company, The Woodlands Area Chamber of Commerce, The Woodlands Township, Waste Connections, Wells Fargo, Woodforest National Bank, Woodlands Relo Group, Wright's Business Technologies & Wright's Printing & Marketing.