/

/

JROTC Foundation raises $40,000 for local programs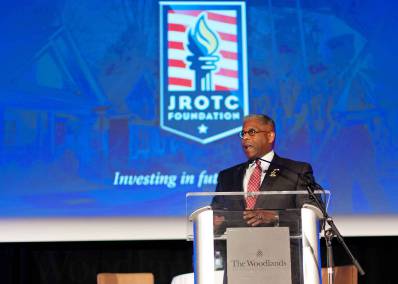 THE WOODLANDS, Texas - The JROTC Foundation's recent Dinner with Allen West netted $40,000 for underfunded high school JROTC programs in Houston and Texas.

The event, held Nov. 8 in The Woodlands and featuring former senator and retired Lt. Col. Allen West, was the second fundraiser for the foundation, which launched last year. Matt Patrick, radio host with KTRH, emceed the dinner. One hundred percent of the evening's proceeds will benefit high school JROTC programs.

"Funding for JROTC programs has been cut drastically," said Conrad Doss, president of the JROTC Foundation. "Students involved in JROTC have a higher graduation rate and 30 to 40 percent go on to enlist in the military. The program has a tradition of shepherding great leaders, and we want to help these kids succeed in any way possible."

Proceeds from last year's fundraiser, Dinner with Oliver North, helped send 50 cadets from three area programs to summer leadership schools and basic training camps. Plus, approximately 100 cadets from Cypress Creek High School were able to go to the "Curriculum in Action" field trip earlier this year. The funds raised also provided for competition rifles for the North Forest JROTC and 30 warm-up competition uniforms for students unable to purchase their own.

"I was at a high school with high-performing cadets," said Lt. Col. Tim Lambert. "Our only limitation was funds to do a lot of activities that schools with a decent amount of funding do. After talking to the JROTC Foundation, I felt they could us get some of the things I thought our kids deserved."

For more information on the JROTC Foundation, visit www.jrotcfoundation.org.