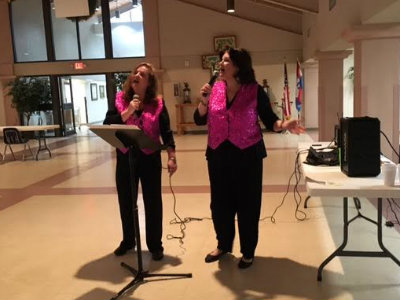 THE WOODLANDS, Texas - What better way to give on #GivingTuesday than to give selflessly of yourself. That pretty much sums up the mission of A-Plus Caring, Community, and Compassion. After reading the story about the Lovelighters… Where the love light gleams, Carolyn Gerken, founder of A-Plus C3, decided to share tidings of the season by entertaining the senior organization at their get-together on December 1.
A-Plus Caring, Community & Compassion gives holiday party to Lovelighters seniors' organization.
Enlisting the services of professional singer, Betty Lynne of Lynnesong Ministries, the seniors were serenaded with holiday tunes (video) and Christmas carols(video), and were encouraged to sing along to get into the holiday spirit.
"This is how I give praise to the Lord. I do it with my singing," said Betty Lynne.
Just back from a recent trip to Thailand and Singapore, Lynne travels the globe to visit orphanages and sing to the children. Both Lynn and Gerken have sung together in church, and have developed a bond when it comes to seniors.
"I have a special place in my heart, when it comes to seniors," said Gerken, who has been serving seniors for approximately a decade, and formed a 501(c )3 non-profit organization dedicated to helping those in need in the community. Seniors are definitely among those in need, with many of them living below the poverty level on a meager Social Security check.
In addition to the entertainment, A-Plus Caring, Community & Compassion presented every senior with a warm blanket...a timely and appreciated gift with the recent drop in temperature. The event depleted the blankets purchased by the non-profit organization, but in the spirit of #GivingTuesday, the community can contribute lap blankets, not only throughout the holiday season, but year round.
Contact Carolyn Gerken with any donations, via the A-Plus Caring, Community & Compassion Facebook page.
"Seniors are the forgotten group during the holidays. People are shopping, and celebrating the season; they don't want to be reminded of their own demise," said Gerken. "They find it depressing. I don't. I see the joy in their faces when they get visitors, especially during the holiday season."
Seniors who wish to share in the cameraderie, are cordially invited to join the Lovelighters the first and third Tuesday of the month at Saint Simon and Jude Catholic Church located at 26777 Glen Loch Drive in The Woodlands, Texas (77381). Lunch is served for a modest fee, and immediately followed with Bingo for prizes. Special events are a rarity, like today's Christmas sing-along, but Gerken vows that the Lamplighters will not be among the forgotten seniors.
"A-Plus Caring, Community, and Compassion will be back. We'd like to do something at least quarterly with them," said Gerken. "We're already planning a Valentine party."
On #GivingTuesday find someone who has been overlooked or forgotten, and do what you can for them. As the saying goes...what goes around, comes around.