BASKETBALL: Highlanders take huge 76-45 victory over College Park in rivalry game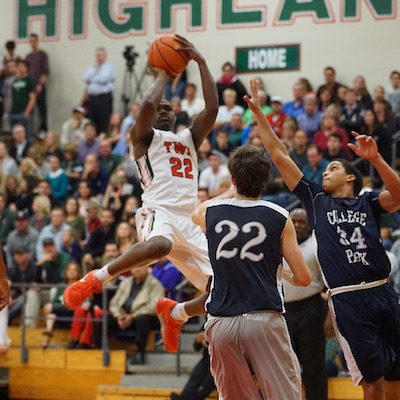 THE WOODLANDS, Texas — The Woodlands High School boys basketball team shut down College Park 76-45 in their first rivalry showdown of the season.

Watch highlights from the game here.

Sophomore point guard Romello Wilbert started the game with a free-throw for the Highlanders, followed by a three-pointer from junior forward A.J. Bullard. Wilbert attacked the rim for another two points, but several shots by College Park's sophomore guard, Quentin Grimes put The Woodlands behind 6-8.

The Highlanders took the lead back after three three-point shots by Clay Creighton, Ryan Lang and Player of the Game Jack Hammett, who brought the score to 15-10, Highlanders, at the end of the first quarter.

A shooting streak for the Highlanders created a large deficit for the Cavaliers, and The Woodlands was up 31-18 at halftime. Not letting up in the third, Bullard and Primavera led the Highlanders through the third quarter to a 55-31 score. Several steals and layups and a three-pointer from Hammett finished off the Cavaliers, bringing them to the final score, 76-45, Highlanders.

The Woodlands, now 2-1 in district and 18-5 overall, will face Oak Ridge on the War Eagles' court Friday, January 15 at 7 p.m.