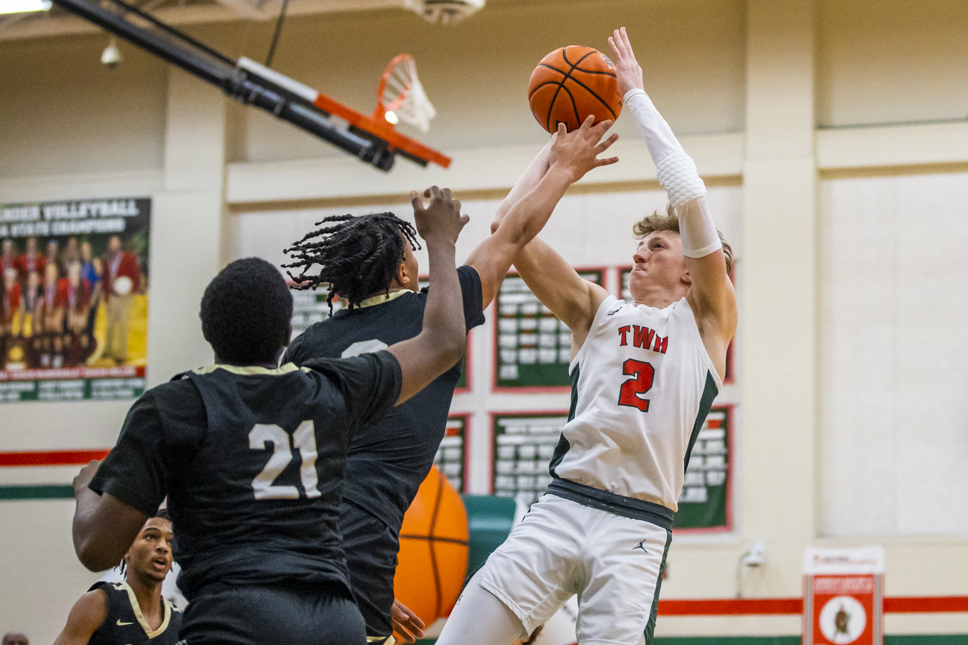 THE WOODLANDS, TX -- The Conroe Tigers traveled south to The Woodlands, on Wednesday night, to face the Highlanders in their first match up of the district season. This would be for the first-place seed in the district running with College Park holding third place and Grand Oaks at fourth.

In the first quarter, The Woodlands came out in their same aggressive style as they have been all season. They would put pressure on the ball and close down the passing lanes forcing Conroe's shot. Conroe would push through the Highlander defense and force the foul on a couple of occasions. This would be the theme of the night's game.

With Conroe down 7 points at the beginning of the second, they would be forced to play aggressive to catch The Woodlands lead. This would result in a massive number of fouls and free-throw attempts. Conroe would hit the line 7 times, while The Woodlands would go 5 for 5 at the free-throw line. By the end of the half, The Woodlands would increase their lead by 13 making the score 40-27.


The Woodlands has the lead going into the half. @TWHhoops @ConroeHoops

Halftime
The Woodlands - 40
Conroe - 27 pic.twitter.com/i12Ed5olgF

— Woodlands Online Sports (@WOLsports) January 19, 2023
The second half would start off with a technical foul which was called on Conroe. The free throw shots would just increase from there. Shey Eberwein would hit the line 5 times and sink 7 of the 9 attempts. He would also hit 12 of The Woodlands 15 points in the third quarter, while Lewis would have 7 of the 14 shots for Conroe.
The fouls would continue in the fourth quarter with Shey once again hitting the line the majority of the time for The Woodlands. Although Conroe would out score The Woodlands 20 to 13 in the fourth, they would fall short in the end. This was due to the 44 points put up by The Woodlands Shey Eberwein. He would go 19 for 24 from the line and sink 5 three-pointers.
The Woodlands would end up taking the win and first place in the district with a 68-61 win over Conroe.
The Woodlands takes the win and 1st place in the district. @TWHhoops @ConroeHoops

Final
The Woodlands - 68
Conroeb- 61 pic.twitter.com/5wGFR0hNPJ

— Woodlands Online Sports (@WOLsports) January 19, 2023