Woodlands Equestrian Club presents FEI Training Series by legendary Conrad Schumacher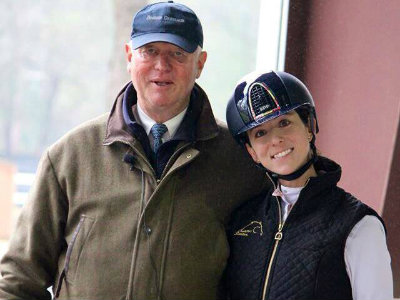 THE WOODLANDS, Texas - The Woodlands Equestrian Club, one of the most renown sport horse facilities in the country, will host the Houston Dressage Society's 2016 FEI Training Series featuring Conrad Schumacher. The legendary Conrad Schumacher has an impressive career spanning decades across several countries.
FEI Training Series February 9, 10 & 11.
Schumacher is returning as part of the WEC's three times per year Training Series, with the goal of providing international level coaching to FEI (international test) riders, and adult amateurs with experience at fourth level and above. Not only is this a tremendous opportunity for qualified riders, it is also a fantastic opportunity for auditors to watch Conrad implement some of the training techniques he has used so successfully during his career.
"We are excited and proud to be hosting the 2016 Houston Dressage Society FEI Training Series with Conrad," said Antonio Renilla of the Woodlands Equestrian Club. "Enhancing the rider's physical and mental awareness to create maximum harmony with the horse is the cornerstone of Conrad's training philosophy. His focus on mental awareness and rider feel, are developed through training the horse with the classical training scale as the basic foundation."
As a rider, Schumacher won the German National Championships and was a member of the National Team. He trained under the late Josef Neckermann, and competed with the likes of Harry Boldt and Reiner Klimke. Conrad has been coaching and teaching around the world since 1982, and has been an influential force in Europe for the teams of Germany, Holland and Great Britain as well as here in the United States. He has coached Olympic Medalists, World and European Champions, and medal winning Young Rider Teams in Europe and the United States.
The FEI training will take place February 9, 10, & 11, from 9:00 a.m. to 5:00 p.m. at the WEC located at 10422 Hufsmith Road between The Woodlands and Tomball (77375). For more information view the dressage clinic link at www.dressageclinic and also the WEC website link, or call (713)373-7543.