/

/

EDP luncheon guests listen to founder of Scorpion Computer Services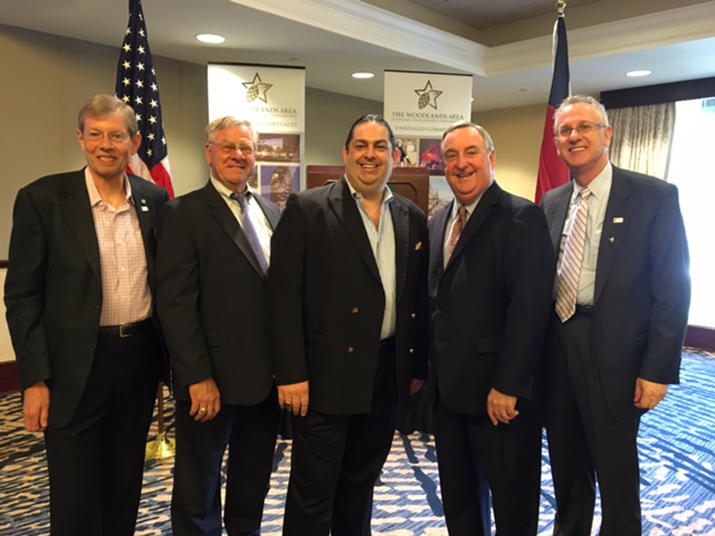 THE WOODLANDS, Texas — The Woodlands Area Economic Development Partnership (EDP) recently held their Quarterly Partner Luncheon at The Woodlands Resort & Conference Center on Thursday, April 7th. This luncheon was co-hosted with the Houston Technology Center and HARC. The presenting speaker was Walter O'Brien, CEO and Founder of Scorpion Computer Services, whose technology was used to locate the Boston Marathon Bombers & ISIS. The CBS Series is inspired by Walter O'Brien's colorful life. O'Brien discussed how attendees can protect their business & personal information from unauthorized access from an expert in global cybersecurity.

For the past eleven years, the EDP has held their luncheons for Partners in order to keep them informed of important issues facing businesses today. Past topics have included Economic Development, Regionalism, State of Education, Law Enforcement Update, Center for Houston's Future Scenarios 2040, Anadarko's Current and Future Projects, State Economic Development and Tourism, Banking Executives Update, Life Science Update, State of our Economy, Local Tourism and Healthcare.

Gil Staley, CEO of The Woodlands Area Economic Development Partnership, said, "Funds from our luncheon benefitted the Houston Technology Center North, a business accelerator and incubator program in The Woodlands that operates in collaboration with The Woodlands' Houston Advance Research Center. With HTC's influence, we heard from one of the most intriguing speakers that we have ever hosted, who provided great insight into the cybersecurity threat that we all face in this digital world."

Partners in attendance at the luncheon were Abercrombie & Associates PC, Amegy Bank of Texas, Bayside Printing, BB&T, Caldwell Companies, Calvetti Ferguson, PC, Carr, Riggs & Ingram, LLC, Cheryle Sanderson - Better Homes & Gardens Real Estate Gary Greene, City of Shenandoah, CenterPoint Energy, Community Impact Newspaper, Efficient Wealth Management, Entergy Texas, First Financial Bank, Gallagher Benefit Services, Jones Walker, Linscomb & Williams, LJF Marketing, Lone Star Family Health Center, Memorial Hermann The Woodlands Hospital, Northwestern Mutual, OneSource, Petroleum Wholesale, Prosperity Bank, Stream Data Centers, Stringer Executive Search, The Woodlands Area Chamber of Commerce, The Woodlands Township, Tough Law Firm, PLLC, Wright Business Technologies, Wright's Printing and Marketing.