/

/

Design Tech Homes' Mike and Barbara Feigin named honorary chairs for Tea on the Lawn; Mario Lopez to speak at April 27 fundraiser
Design Tech Homes' Mike and Barbara Feigin named honorary chairs for Tea on the Lawn; Mario Lopez to speak at April 27 fundraiser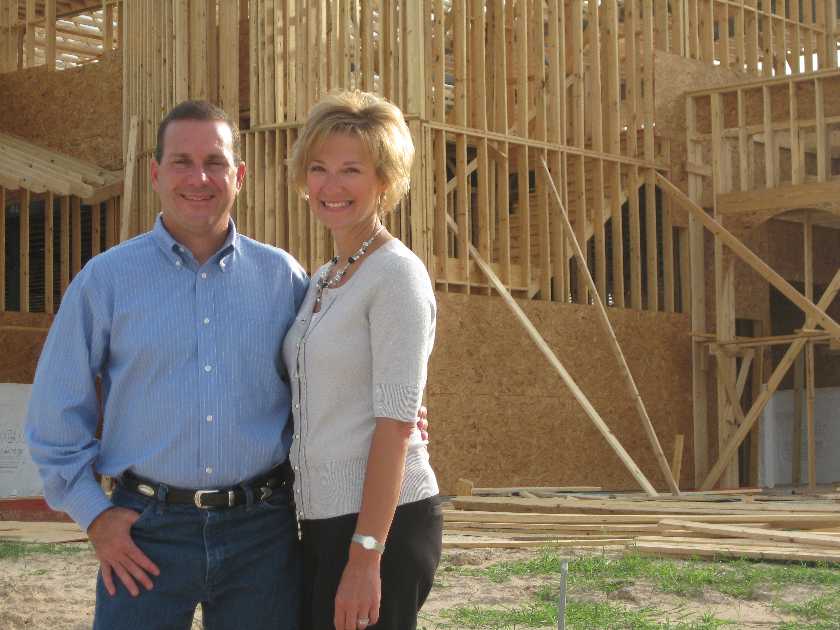 MONTGOMERY COUNTY, Texas -- New Danville's Tea on the Lawn committee announced today that Mike and Barbara Feigin of Design Tech Homes, will be Tea on the Lawn's honorary chairs. Long time supporters of New Danville, the Feigins have been an integral part of New Danville's success.
"Leading by example, Mike and Barbara Feigin believe it's important to give back," said Eva Aguirre, Executive director of New Danville. She continued, "They regularly support several charities in the greater Houston area, and New Danville has been blessed to be among them."
For New Danville, the Feigin's support has been paramount to the success of the program.
In developing the financial backing to help establish New Danville, a single family home was built and auctioned off. The Feigns were key to building the house. They organized all donated services as well as coordinated the yearlong construction job. Whatever was not donated to construct the house, the Feigns paid for it
They built and donated two homes for New Danville's Meadowbrook neighborhood
Donated an entire warehouse of furniture to New Danville's resale store, Jazzy Junque
Members of New Danville's Founder Circle since its inception
"It is a great honor to have two of our local community heroes chairing our 10 th anniversary Tea on the Lawn Luncheon," said Jim Kuykendahl, Chairman of the Board, New Danville.
Tea on the Lawn will held on Friday, April 27, 2018 at the lovely Madera Estates, located at 3201 N. Frazier St., Conroe, Texas 77303. Doors open at 10:00 am. Guest speaker is Mario Lopez. Tea on the Lawn Tables, Sponsorships and Underwriting may be purchased by visiting www.teaonthelawn.org.
About New Danville
New Danville serves adults with developmental and intellectual disabilities in an environment promoting dignity, respect and individual choice. Our day and residential program was developed to empower and maximize personal independence by offering an environment that allows people the opportunity to learn social and money-skills, participate in product-based and job skills-training to promote independence and self-reliance, and ultimately grow by offering activities that enrich the mind, body and spirit. New Danville is a Texas not-for- profit 501(c)(3) charitable organization.
About Mike and Barbara Feigin
Mike and Barbara Feigin started Design Tech Homes in 1997. Within two short years, the company made the list of HBJ's fastest growing companies in Houston. Throughout the next several years, the Feigins decided it was not enough to just design and build homes efficiently and affordably. They wanted to move beyond a "selling" approach and aimed to better educate consumers on the products and systems that are a part of the construction process. Mike, as CEO, and Barbara, as CFO, listened closely to their homebuyers and decided to give them exactly what they had been asking for – real, solid, peace of mind that comes with knowing that their home is well built and able to stand the test of time. That's when it happened. Design Tech Homes became one of the most productive custom builders to surpass industry standards in design, construction and longevity.
Leading by example, Mike and Barbara Feigin believe it's important to give back and give back they do. They regularly support several charities in the greater Houston area including Texas Children's Hospital, New Danville, Angelman's Syndrome Foundation, , and Interfaith of The Woodlands among others. Every spring, they host an annual gala, which benefits the Jan and Dan Duncan Neurological Research Institute at Texas Children's Hospital. To date, the gala has raised over $1.5 million in funds to further advance research for neurological disorders.
As long-time residents and business owners, the Feigins learned the importance of giving back to their community while growing up. Mike's father, the late Dr. Ralph Feigin, was considered the most important pediatrician of the past 25 years. The younger Feigin saw first-hand his father's unwavering commitment to improve the lives of others through a life of service and medicine and wanted to keep his dad's legacy alive. Through helping others and charitable giving, both Barbara and Mike Feigin are leaving indelible footprints in their community.