/

/

Circus comes to Huntsville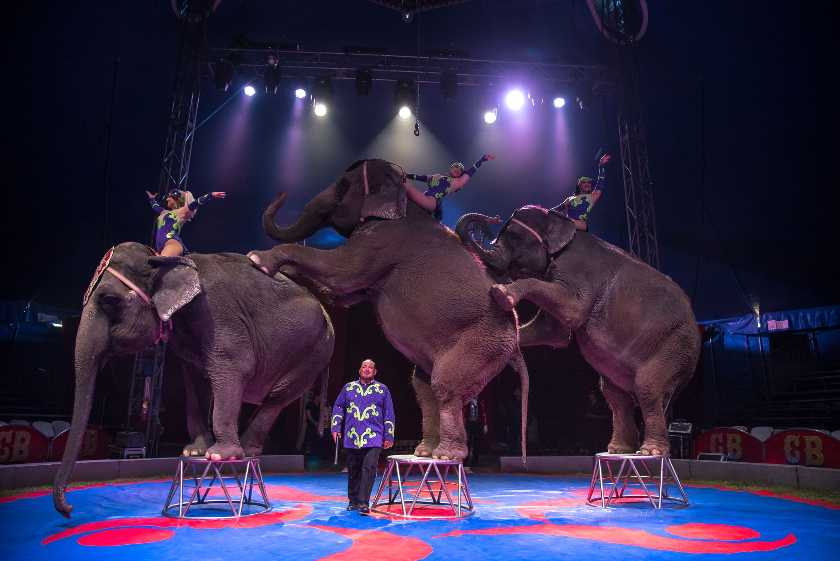 HUNTSVILLE, Texas -- The Carson and Barnes Circus Saurus took a two day stop in Huntsville on March 22 and 23 at the Walker County fairgrounds for their 81st tour. Originally founded by D. R. and Isla Miller in 1937, and now managed by the remaining Miller family, the Circus has been a traveling form of entertainment for a very long time.
Ringmaster Erik Bautista was quick to lift the audience's spirits and get them engaged and anxious for the next performance. The performers wore sparkly, colorful attire that never ceased to grab attention.
The Rosales family performed together representing five generations and did a variety of things in the show such as throwing fire, bowling pins, and climbing very tall, dangerous looking poles.
The theme for this year's tour was dinosaurs, involving elaborate dances, acrobatics, and fights with the first hunter and gathers and the never before seen dinosaurs.
Lisa and Tracy were two of the three Asian elephants that the audience bonded with quickly. The circus offered rides on top of the elephants for a cost of four tickets. Other games surrounded the big top such as a spinning wheel, dinosaur rides, jump houses, a photo booth, and face painting.
An hour and a half before the Circus began, the Circus advertised free viewing of the elephants being washed by the fire department. They were soaped up and rinsed off, clean as could be for their performance. The interaction between the washers and the elephants was amazing to see. The elephants understood exactly what they were being told, turning and laying down whenever their trainers asked.
Hot dogs, cotton candy, candy apples, snow cones, and popcorn were sold to customers who had a craving for classic circus food. I can say from experience that the snow cones were delicious and needed with the rising heat of Texas spring.
If you want a real circus experience, Carson and Barnes Circus is the way to go. Their energy was contagious and uplifting for hours after the circus was over and it is perfect for all ages from children to their grandparents.