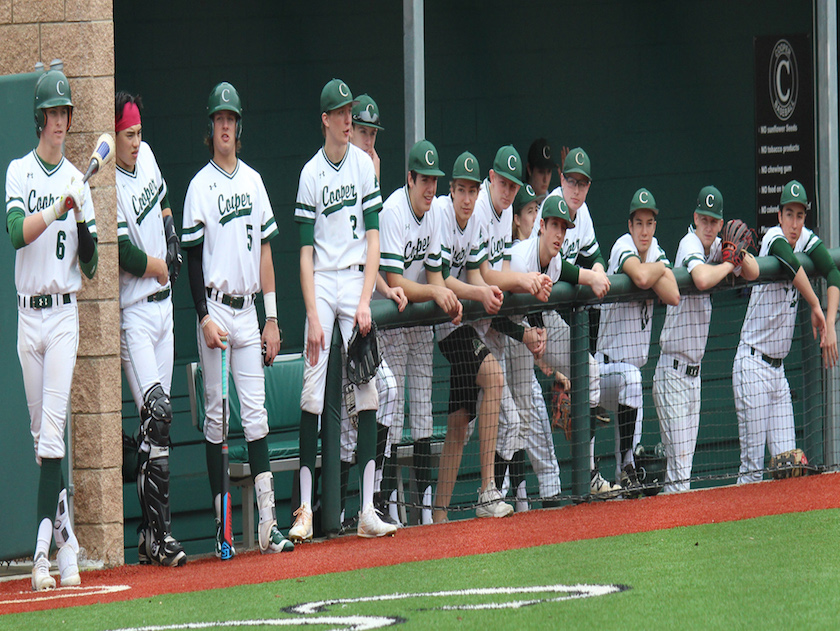 "This team is deeper on pitching than it has been in years. The defense should be solid again (.933 team fielding percentage in 2017). The line-up is as deep as it has been since 2008. I expect us to be better at the plate earlier than we have been in the past. This group is very dedicated to baseball and they get along very well. With a deep pitching staff, deep hitting line-up, and solid defense, this team will be fun to coach. I am excited for the season to start." – Head Coach Brent Landrum
The 2018 John Cooper baseball team recently qualified to compete in post-season play (playoffs) in Dallas on May 3-5. The season record as of today is 17-11 overall and 2-2 in SPC South Zone.
This season, the team looks to improve upon last year's 17-19 record and 3-3 finish in the Southwest Preparatory Conference (SPC) South zone. The team qualified for the SPC Tournament and finished in a tie for the third seed, but due to tie-breaker rules, they entered the tournament as the fourth seed and finished fifth overall in SPC. That qualified for the second highest SPC finish is school history (3rd place in 2006). The team has set a goal this year of making a deep run in the upcoming SPC tournament.
The Team returns nine team members, seven of which lettered, and four position starters as well as three starting pitchers. The team lost six seniors. Returning lettermen are Seniors Jaeden Camstra, Ryan Reid, and Jackson Rowley, Juniors Evan Godwin, Logan Leax, Evan Minarovic, Braden Sebesta and Jonathan Spangler-Sakata. Returning team members are Sophomore Jacob Hayley.
New to the Varsity this year are Juniors Ben Braun, Rob DeLoit, Jacob Gunter, Matt Krehbiel, Will McNeill and Reed Smith (transfer from Cy-Fair HS) as well as sophomores Clark Douglas (transfer from Dubai), Tyler Douglas (transfer from Dubai), and Antonio Pastrana.
Offensively the Dragons are led by the junior class. Logan Leax (CF) and Evan Minarovic (SS) have started since they were freshmen. Leax hit .313 last year with 30 runs scored and 17 stolen bases. Minarovic hit .255 with 11 RBI and 18 stolen bases. Evan Godwin returns to man first base and hit in the three hole. Godwin led the team with a .324 average last year while driving in 24 runs.
Junior transfer Reed Smith will hit in the four hole. Juniors Jonathan Spangler-Sakata and Matt Krehbiel will battle to replace Raybon behind the plate.
Pitcher Braden Sebesta threw 46 1/3 innings last year and we expect another year like that from him. Evan Godwin (56 innings pitched), Jaeden Camstra (35 innings pitched), Jackson Rowley (26.2 innings pitched), and Evan Minarovic (26.2 innings pitched) all return to give the Dragons a very deep pitching staff. Transfers Reed Smith and Tyler Douglas also factor in as starting pitchers.
The strength of the 2018 team is its pitching and defense. The depth of the pitching staff is the deepest the Dragons have had since the 2008 SPC Division II championship season.
Coaching Staff The team is coached by Brent Landrum, who enters his 14th season at the helm with a 230-190-6 record at Cooper and overall. Steve Hon returns for his 15th season as varsity baseball assistant coach. Pitching coach Mike Williams returns for his seventh year with the Dragons.
Conference Play The team will participate in the SPC South Zone this year with six other teams from Houston and Austin. The usually tough Houston teams of Episcopal (12 time SPC champion), Kinkaid (four time SPC champion), Houston Christian (2014 SPC champion), and St. John's (two-time SPC champ) will be good again this year. Austin St. Andrew's looks to improve upon their sixth seed qualification in the SPC tournament. Austin St. Stephen's is always in the mix and they are very well coached.
------------------------------------------
2017 Team Accomplishments
Season Record 17-19
S.P.C. Record 3-3 in South Zone play
Qualified for SPC playoff championship tournament, fourth seed in South Zone
2-1 record in SPC playoff championship tournament
5th place finish in SPC playoff championship tournament
Set team record for games played in a season (36)
Set team record for innings pitched in a season (227 2/3)
Set team record for extra innings games played (6)
2017 Individual Accomplishments
Evan Godwin '19 All SPC, All South Zone, All Tournament Cooper tournament, All tournament Cooper round robin tournament, 2017 JCS Pitcher of the Year
Logan Leax '19 Honorable mention All SPC, All tournament Cooper tournament, All Tournament Cooper round robin tournament, 2017 JCS Offensive Player of the Year
Evan Minarovic '19 Honorable mention All SPC, 2017 JCS Defensive Player of the Year