/

/

Locals begin shooting new movie in The Woodlands, Spring area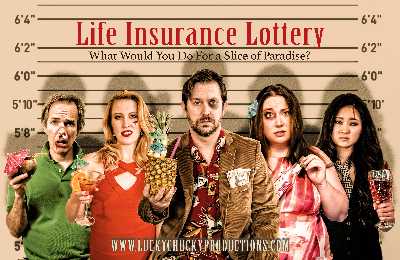 MONTGOMERY COUNTY, Texs -- Local Spring-Woodlands area filmmaking couple, Chuck Norfolk and Courtney Sandifer begin shooting their new feature-length independent film May 2, 2018 in the Spring area. The film, written and directed by Norfolk, is a quirky thriller currently titled "Life Insurance Lottery", a short departure from their past three films in the comedy-horror genre, which are all available on platforms such as Amazon Prime.

"Life Insurance Lottery" is also Executive Produced by Spring resident Robert Reese, and will be shot over the course of 14 days by cinematographer Ron Greene of Conroe. It stars scores of local actors, most well-known in Houston's theater scene, Tom Long, Haley Hussey, Joe Grisaffi, Chaney Moore and Romen L. McPherson. The movie also features Houston-born, L.A.-based character actor Brad Potts, anime voice over actor and comedian Rob Mungle, and Gary Smith of DIY Network's "Texas Flip n' Move".

The producers are making an effort to keep it local, with film locations off Riley Fuzzel, Rayford, F.M. 2920, with a few in Cypress and Magnolia. You may see the crew of 10-12 pop-up with camera and lights at some local establishments or at a fake crime scene.

Locals interested in being an extra in the film can email the producers at luckychuckycasting@gmail.com. The film is also currently fundraising and posting updates regularly at www.luckychuckyproductions.com.

About the Filmmakers
Chuck Norfolk is an award winning director and screenwriter who is a strong supporter of indie film in Texas. He recently directed his second feature film "Getting Schooled', which was released on DVD and video-on-demand by Midnight Releasing in Feb. 2017. Chuck also co-wrote and produced "Conjoined" (2013) and was producer and assistant director 'Jacob' (2011/I).

Courtney Sandifer is a producer, director and production designer with more than seven years of experience in indie film and video production. Most of Courtney's eight short films and upcoming feature, Kids vs. Zombies, are inspired tremendously by her own two children, one of which is on the Autism spectrum. She holds a Bachelor of Science from Louisiana Tech University, and Master of Public Administration from University of Texas at Arlington.