/

/

Bungee Workout Studio hosts event for Meals on Wheels Montgomery County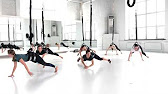 Ana Gaby Ramirez, owner of the Bungee Workout Studio on FM2978, opened her doors last Thursday, May 17th, to a group of women curious to learn about this new workout craze while supporting Meals on Wheels.

Fifteen women stepped into padded shorts and leg harnesses. Instructor Elena led them into a floor exercise warm up. Then the bungee cables came down from the ceiling and were hooked onto each participant. Laughter followed as the women twisted and twirled. By the end of the class, most everyone had mastered the "Peter Pan" leap into the air.

Thanks to Bungee Workout Studio, Goode Co. Restaurants, Woodlands Wellness and Cosmetic Center, H Wines, The Woodlands Country Club Tennis Shop and the generosity of the participants, enough funds were raised to provide a hot meal to 174 clients of Meals on Wheels.