/

/

The Woodlands Man and Woman of the Year contenders down to last few days of campaign; fundraiser in support of blood cancer research
The Woodlands Man and Woman of the Year contenders down to last few days of campaign; fundraiser in support of blood cancer research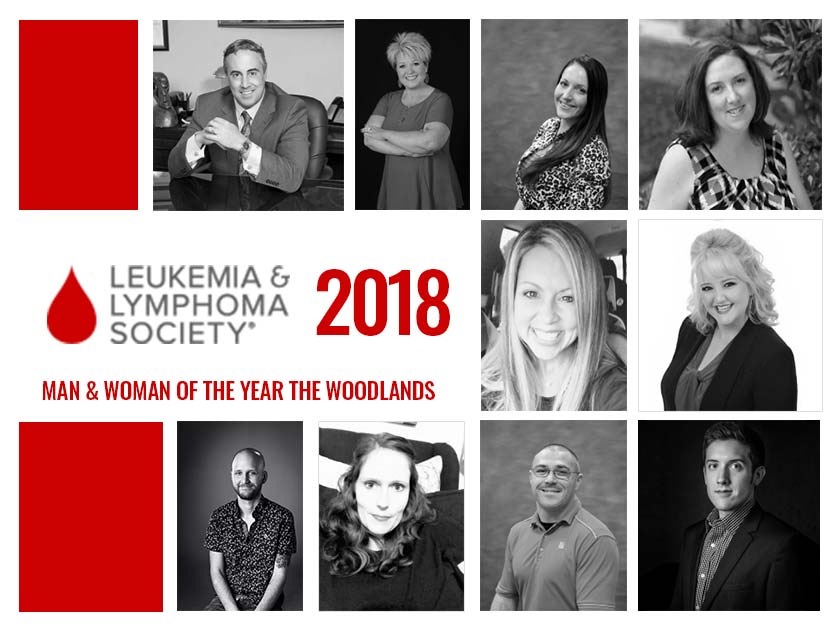 THE WOODLANDS, Texas -- The Leukemia & Lymphoma Society Man & Woman of the Year is a friendly philanthropic competition to see who can raise the most funds during a 10-week campaign in support of blood cancer research.
The campaign, which began March 22 and ends June 1, is in honor of two Texas children who have been affected by blood cancer: Willow Kreitz, the 2018 Texas Gulf Coast Girl of the Year, is 8-years-old and battling acute lymphoblastic leukemia. James Ryan, the 2018 Texas Gulf Coast Boy of the Year, was diagnosed with acute lymphoblastic leukemia was he was 13-months-old, and was in remission at age 4. He will turn 12 on June 1.
There are 10 Montgomery County Man & Woman of the Year contenders:
MAN OF THE YEAR
Brad Leigh
I agreed to lend my support to this campaign because LLS is a tremendous organization that raises money for a great cause. Most of us know someone that has been stricken by these conditions and I want to help. I had a great friend when I was young pass from lymphoma, and so that is my personal connection.
We have reached out to friends, neighbors, business contacts etc. The campaign is coming to an end so I would encourage anyone and everyone to give. The campaign will culminate with a gala/dinner on June 1.
Lucas Novick
I am a three-time survivor of acute lymphoblastic leukemia. After my second relapse in 2015, I was essentially told that I was out of options and there was no treatment available through which I was likely to achieve long-term remission alongside a viable quality of life. I got lucky and was accepted into a clinical trial that has since allowed me to remain in remission for over three years now, a trial that was funded in part by LLS. The treatment was approved by the FDA last year and is the first treatment of its kind, described by many as the first "living drug."
I have been active with LLS through Light the Night since my diagnosis in 2009 but with this effort I wanted to focus on showing people that I am living proof that their donations over the years have made a real difference, and ongoing support will continue make a difference in the lives of other patients moving forward.
Ian Ramirez
I'm a hometown boy; I grew up here. The Woodlands has given so much to me, and I really want to give back. What better way than this campaign? My grandmother was a classically trained ballet dancer. She died of leukemia before I was born.
She is my connection to the arts and to the Leukemia & Lymphoma Society. I thought perhaps the best way for me to do this campaign was to 'raise my voice' for blood cancer research. (Editor's note: Ramirez is a professional opera singer, and has performed across the country as well as Germany.)
I've raised funds in variety of ways throughout the community, including serenading moms on Mother's Day and performing a benefit concert at Christ Church United Methodist earlier this month.
Brad Adkins (from his profile page on www.mwoy.org)
I have so many reasons to be excited for this opportunity. I had my own cancer scare around my 30th birthday, with a rare type called dermotofibrosarcoma, and that really took my fundraising passion to a new level. I have also known way to0 many families affected by different types of cancers over the years, including several children in The Woodlands, including my friend's son, Hans Weberling, who was only 9-years-old when he lost his battle.
In his honor, I willingly accepted my nomination to help join the fight for a cure! Along with my campaign team, we have set a goal to raise enough money to be able to name a research grant in one of their honors.
WOMAN OF THE YEAR
Erin Cones
This campaign is about a celebration. Our five-year-old son, Crew, was diagnosed with acute lymphoblastic leukemia in 2015. In November, he will ring the bell. I can not think of anything better to preface his victory over blood cancer than this title. He has spent over half of his life battling leukemia and I want to show him that I'm committed to helping others "Kick Leukemia in the Face" by raising awareness.
From day one of his diagnosis, I've dedicated time and money to fighting for a cure. I've remained open to sharing our story and I believe that my son's unorthodox strength and incredible spirit has been a huge generation of support. I've been told that he has changed so many lives and I think his touch on others has driven them to back our campaign.
No matter what happens with this title, I am just honored to be the mother of a leukemia survivor.
Carrie Fetner
The Leukemia and Lymphoma Society is dear to my heart. My now 14-year-old daughter was diagnosed with high risk pre B-cell acute lymphoblastic leukemia in May 2015 when she was 11- years old. The Leukemia and Lymphoma Society is the front runner in groundbreaking research to not only develop new chemotherapies that are less harsh on the body but to find a cure to put an end to all blood cancers once and for all. Leukemia devastated my family. My mission is to help find a cure so that no other family has to experience what mine did.
To raise funds, I put an amazing team of dedicated women together, sent personal letters, used the power of social media, and made several videos with my daughter sharing our story. A team member hosted a crawfish boil with a raffle to help and several other team members are hosting various events as well.
Kalli Gonzalez
As I learned more about the Leukemia & Lymphoma Society, I just couldn't say no.
Willow is just a year older than my baby girl, Kohen. My daughter had heart surgery when she was 18-months old, so I understand that feeling, that unimaginable reality her parents had to face. I've visited with Willow many times and talked to her parents. Their faith is so strong. They are such a remarkable family, as is James' family. Willow has the same condition James had, and he is cured. How beautiful for Willow's family to see James' family and where they're at today.
Awareness is one thing, but we've got to raise money. It's the almighty dollar that funds this amazing research. My whole campaign is in honor of these amazing pediatric oncology patients and survivors.
Holly Price
Cancer has touched my life. My grandmother passed away from pancreatic cancer. I have also been involved in a nonprofit organization that helps raise funds, awareness and support for pediatric cancer patients. I am so incredibly honored to help raise fund and awareness to help end blood cancers.
I have a very supportive campaign team that is helping in all the efforts. There have been many events in The Woodlands that asked to highlight my campaign to help raise funds and all of them have been extremely successful.
Shannah Quinn
I have two children, a 9-year-old daughter and a 10-year-old son. They are healthy and active and I thank God every day for that blessing. I look at this campaign as gratitude in action; how could I not participate?
We are at the end of the campaign with only a week to go. I have an incredible team who has helped me. Runway Houston donated a portion of the event to my campaign. One of my team members ran for 24 hours and got pledges for every mile ran. My team won the 50 states challenge- we got a donation from all 50 states in only three days of the week-long challenge. We have had more than 12 friends host lemonade stands with their kids - one of which raised $1,300 (Kids are the best little salespeople!)
I feel we have left no stone unturned in our efforts to raise money for this life-saving organization.
Julie Bickle (from her profile page on www.mwoy.org)
(My brother) Greg made many contributions to the Leukemia & Lymphoma Society and his wish was for each of us was to continue contributing to the research of those who are still fighting and those who have gone before us.
Greg wanted to live to be able to share his experiences through educating and coaching other patients. God had other plans and our sweet Greg went home on Friday, December 8, 2017, but his legacy will live on in each one of us as we remember his incredible zeal, his tender heart, his kindness, and the gentleman he always was. It is on Greg's behalf now, we thank you for being part of his journey, our journey, and humbly ask that you help us keep his memory alive. (Greg passed away in 2017 at the age of 51.)
HOW TO HELP
Donations can be made online until 6 p.m. Friday June 1. The 2018 Man & Woman of the Year will be announced at the Grand Finale Celebration on June 1 at The Westin at The Woodlands.