/

/

New nonprofit in The Woodlands helps veterans and horses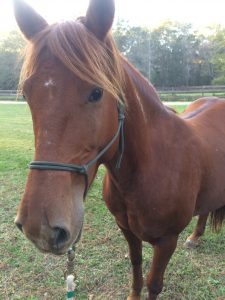 Erin Malia, President and co-founder of Ruby's Home for Good is proud to announce the formation of a new non-profit based in south Montgomery County. "Ruby's Home for Good" is dedicated to helping at-risk horses and providing them with a safe, permanent home. We envision our horses recovering from their past traumas and challenges to return to full health and wellness. We look forward to partnering with our veterans' community through our horsemanship program, where veterans and their family members participate in the care and rehabilitation of our horses while experiencing the many documented benefits of horsemanship.

Focused in The Woodlands/Montgomery/Magnolia area, Ruby's Home for Good has three distinct objectives: Equine Rescue and Rehabilitation, Horsemanship Education, and Community Outreach. "We want to be a resource to help both those veterans who have served our country and these horses that have been poorly served by humans by creating an environment where they can form unique, mutually beneficial relationships" says co-founder Russ Gunther. "We are working hard to develop our programs and raise awareness of the senseless slaughter of horses, as well as the post-service challenges that affect our returning veterans and their families."

Ruby's Home for Good was founded in September 2017 after meeting our first rescue horse and organization namesake, Ruby. Ruby, a wild mustang captured in New Mexico from public land by the Bureau of Land Management, was previously destined for slaughter like tens of thousands of American horses each year. Erin recalls: "Even when we first met her and she would not let anyone touch her, her expression clearly communicated a kind, generous nature that simply needed the opportunity to trust people. We fell in love with her." Like so many other local horses, Ruby was displaced due to Hurricane Harvey, but soon after the storm found a permanent home with us and has so much to offer our future participants.

As the founders of Ruby's Home for Good, we are in the process of developing our program for veterans and their family members and already have plans to expand to include at risk youth and families. Our horsemanship program offers a unique approach that we believe will appeal to and benefit many of our community members. We utilize equine-assisted learning principles while incorporating the countless documented benefits of outdoor, recreational, and physical activities as we care for and build relationships with horses in need. These powerful relationships open doors to self-awareness, self-reflection, affirmation, connection, and more while building empathy, confidence, and communication skills.

Our organization is currently looking for a facility in the southern Montgomery county area where we can expand our herd and begin the horsemanship program. If you have or know someone who has pasture facilities that would be interested in working with Ruby's Home for Good, please contact Ruby's Home for Good via email at Ruby@RubysHomeforGood.org.