/

/

Southern Star Brewing sets new fundraising record for Operation Pets Alive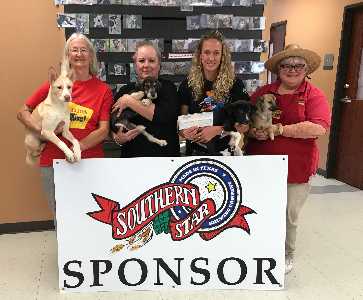 The results are in from the Operation Pets Alive fundraiser held this spring. During the 2nd Annual Southern Star BBQ Cook Off, the event generated record-breaking donations raised during a single event for the nonprofit organization.

Danielle Betz, Events Director for Southern Star Brewing Company, who organized and sponsored the event, was pleased to announce that Operation Pets Alive has received $40, 665 from this year's 2nd annual BBQ Cookoff.
Danielle said, "It is a great honor to partner with Operation Pets Alive to support and expand their ability to enhance the lives of our pets. Southern Star hosts a variety of events for community causes and our dog friendly Biergarten has given us the ability to assist in pairing dogs in need with new, loving homes." And Danielle added, "I also want to thank Gullo Ford of Conroe whose efforts as a contributing sponsor assisted us in hosting the most successful fundraiser for Operation Pets Alive."

Operation Pets Alive is a non-profit, all-volunteer organization striving to elevate Montgomery County to a No-Kill community through innovative programs that focus on raising community awareness. Their goal is to reduce the number of dogs and cats that enter their shelters and to increase the number of dogs and cats leaving their shelters alive.

The organization is recognized for their "Flight For Life and Pups on Trucks" Program. Organizing 'rescue flights' and ground transports, for 'at risk' homeless dogs in Montgomery County to transport animals all across the country to give them better lives. Our community is currently saving 40-60% of homeless pets, our partnering shelters in the Northeast saves 99.9% of homeless pets. Each flight transports 18 to 25 dogs to a more secure future.

Marcia Piotter, Founder and President of Operation Pets Alive, was enthusiastic about the event and the results. 'We would like to thank Southern Star Brewery for their support of our Operation Pets Alive and believing in our mission! We are grateful to all who came to enjoy the festivities. We had an amazing time and are excited that as a result, hundreds of Montgomery County's homeless animals will be saved by making Rescue Flights possible, thanks to everyone's support."

The cookoff is a two-day event that was held April 27t-28. It is officially sanctioned by the Lone Star BBQ Society with 30 cookoff teams competing. It was held on the 13-acre grounds of Southern Star Brewing Company at 3525 North Frazier in Conroe. The craft brewery founded in Conroe, July 2007 has grown to distribution in 7 states. The event featured dog adoptions, puppy kissing booth, live music, and several food trucks. In reflecting on this year's event for Operation Pets Alive, Danielle says, "The event was an overall huge success, I am truly looking forward to resetting the record again during next Year's Cookoff."

Danielle welcomes inquiries into how Southern Star Brewery may be able to support other non-profits and community-oriented events. You can contact her at 936-539-9388.