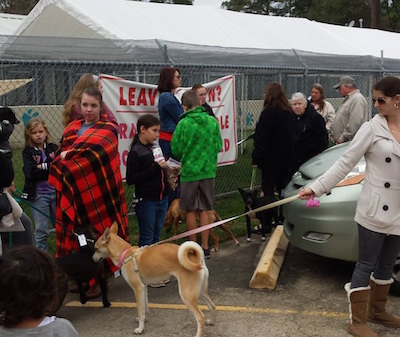 THE WOODLANDS, Texas - Operation Pets Alive!, a Montgomery County-based animal rescue organization, recently bid a fond farewell to more than a dozen dogs that were gathered at a special "Pups on Trucks Day" for transport to New England. To date, OPA has transported more than 3,000 animals to Massachusetts, New Hampshire and other states, where they enjoy a 99% successful rate at adoption. At the recent transport day, volunteers arrived at Best Friends Pet Care on Interstate 45 in Spring to load the dogs into a specially designed climate-controlled truck – courtesy of Peterson Express Transport Services (P.E.T.S.) – which then started its journey north.
Local "no-kill" animal rescue organization has found out-of-state families for 1,200 dogs
"We are so thrilled that these dogs are headed to new lives with inviting families," said Kim Posey, OPA's Transport Team Lead, who organized the event alongside a crack team of volunteers.
Operation Pets Alive! is a non-profit, all-volunteer organization striving to elevate Montgomery County to a "no-kill" community. The goal of the organization is to make a significant contribution to reduced killing in shelters through treatment of treatable animals, training, adoption, foster and rescue, and to make a significant contribution toward decreasing the number of pets entering shelters through spay and neuter, reclaim, retention and re-homing.
For more information on Operation Pets Alive!, including how to donate or otherwise get involved, visit http://www.operationpetsalive.org/ or email info@operationpetsalive.org.