/

/

Flaherty's Cares floor giveaway supports veterans battling PTSD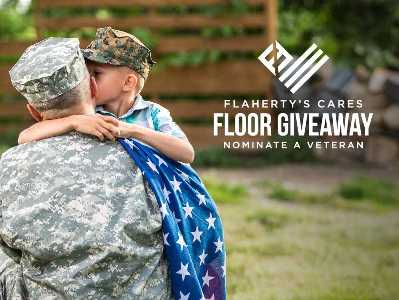 Labor Day has always been an exciting time at Flaherty's Flooring America. Flaherty's annual Labor Day Sale is the most successful sale event every year. Apart from diving huge sales, Flaherty's pride on being able to support the local veterans through Camp Hope. People get the best pricing of the year on hundreds of flooring plus their purchase helps veterans suffering from PTSD. Labor Day weekend only, Flaherty's will donate 5% of purchases to Camp Hope. Over the years, Flaherty's has been able to donate over $50,000 to support veterans suffering from PTSD.

Camp Hope provides interim housing for our Wounded Warriors, veterans and their families suffering from combat related PTSD in a caring and positive environment. The facility opened in 2012 and is located in a quiet and safe setting in Houston, Texas whereby veterans and their immediate family members can find healing, help and hope while benefiting from an intensive peer support and mentoring program for Post Traumatic Stress. To learn more about Camp Hope visit ptsdUSA.org.

In addition, this year Flaherty's Flooring America is giving away a flooring makeover to a deserving veteran. They gave so much to serve their country, so Flaherty's wants to give back by helping them. Starting Monday, August 20 through September 3, people can nominate a veteran with reasons why they think they deserve to win the Flaherty's Cares Floor Giveaway worth up to $10,000. Visit flahertysflooring.com/giveaway to submit nominations.

Flaherty's Flooring America believes that building a stronger community starts with helping those in need. Visit flahertysflooring.com/giveaway to submit your nomination. The deadline to nominate is September 3, 2018.