/

/

Rain Couldn't Stop Relay For Life's Shine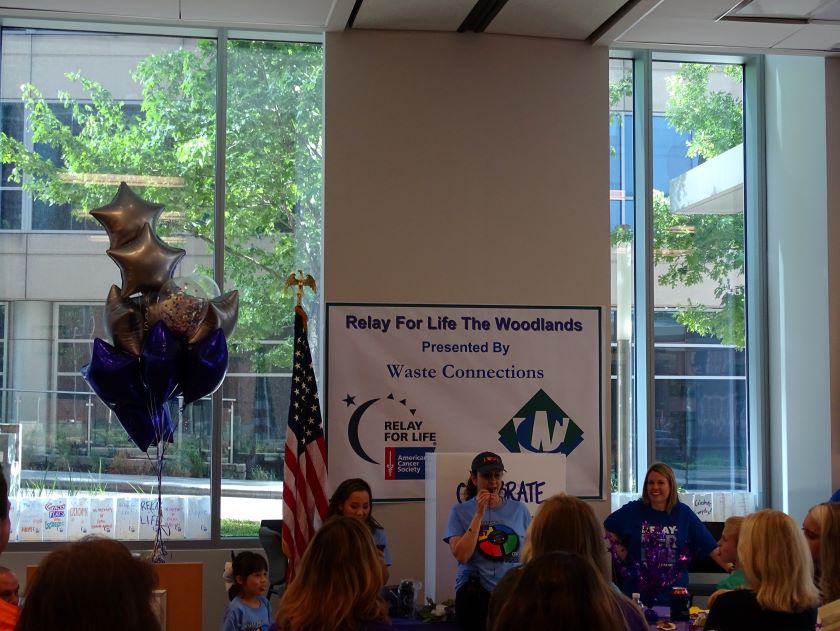 THE WOODLANDS, Texas -- Relay for Life of The Woodlands took place on Saturday, March 13. Relay for Life is an annual event created by the American Cancer Society to raise awareness, funds, and be a day of celebration and remembrance for lives affected by cancer. The event begins well before the festivities take place when teams made up of cancer survivors, caregivers, and anyone else who wants to join in the fight against cancer, raise money in various ways, such as bake sales, car washes, and more.

Typically, Relay day is an all-day, outdoor event that features team members taking laps to symbolize the never-ending fight against cancer, along with music, food, games, and plenty of other attractions to celebrate and commemorate those who have battled cancer.

Relay for Life of The Woodlands Presented by Waste Connections was set to be just the same, but poor weather conditions moved the event indoors to the headquarters of Waste Connections. However, just like team members refuse to let cancer put a damper on their lives, they refused to let the rain ruin their hard work for a day of celebration. The revised version of Relay for Life featured many of the great activities the event is known for, but more importantly, it featured the same great turnout from team members and their supporters that you would expect of the outdoor event.

Susan Netherton of Waste Connections was impressed with the response by everyone involved in the last-minute changes to the event.

"What I think it means is that The Woodlands community is strong in the fight against cancer," said Netherton. "These teams have been working for months to prepare and they just wanted to come to show their support. The American Cancer Society, Waste Connections, and The Woodlands community are going to benefit from all of this."

The hard work and support of the 19 teams involved with Relay for Life of The Woodlands raised a total of $36, 645 to help the fight against cancer. The day was a positive result for everyone involved and Netherton wants to let the community know that next year can be even better with more support.

"Form a team, join the committee," said Netherton. "The Woodlands has a ton of resources and we'd like to make the relay even bigger and better to raise more money for research and cancer patients."

Relay for Life of The Woodlands is a part of a movement that is taking place in over 6,000 communities throughout 27 different countries, helping raise around six billion dollars. To join or learn more about Relay for Life, you can visit their site here.