/

/

Red carpet event kicks off American Cancer Society fundraising in Montgomery County
Red carpet event kicks off American Cancer Society fundraising in Montgomery County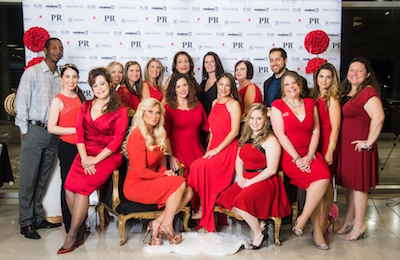 THE WOODLANDS, Texas – The American Cancer Society recently held a VIP party to kick off fundraising for its upcoming Couture for the Cause of Montgomery County Gala on May 7th. Hosted by Mercedes-Benz of The Woodlands, the event spotlighted generous community donors, sponsors and philanthropic VIPs who are working together to make the gala a big success.

As guests entered the venue in true red-carpet style, they were welcomed by models donning artistically-designed gowns, which added to the sophistication of the event. The atmosphere was filled with aromas of delicious foods from various caterers and restaurants in the area. Acoustic duo, Justin and Jeremy, provided the sounds and covered songs ranging from top 40 hits to classic rock and some greats in between. Perhaps the most intriguing feature of the evening was the aerialist performance. The John Cooper School Flying Dragons aerial arts students entertained the crowd with various dance routines, stunts and unique performances. More than 250 guests enjoyed this entertainment along with fun photos in front of the PR Luxury Step and Repeat and photo booth provided by Shutterbooth.

"It was a night of hope and celebration," said Kristi Leggett, 2016 Couture for the Cause of Montgomery County Co-Chair. "We were so excited to see many of our current sponsors at the kickoff party to show their support and thrilled that six new sponsors signed up before the end of the night! These partnerships are going to bring so much research, awareness and hope to people in Montgomery County affected by cancer."

Kelli James, kickoff party committee chair, took center stage with co-chairs Shelley Rollins and Kristi Leggett to thank the attendees and give a sneak peek at the Couture for the Cause gala. Skin cancer survivor and entrepreneur philanthropist, Theresa Roemer is the honorary chair for this year's event to be held at Carlton Woods Country Club in May.

"We're delighted and humbled that Theresa accepted our invitation as the honorary chair," said Shelley Rollins. "She does numerous things to help impact others' lives, and with her distinction and respected reputation within the community, there couldn't be a more perfect fit for this inaugural event."

The main event, benefiting the American Cancer Society in Montgomery County, is to be held May 7, 2016 at Carlton Woods Country Club in The Woodlands and will include a fashion show featuring cancer survivors and their brave stories.

To learn more about Couture for the Cause of Montgomery County, including sponsorship opportunities, stay connected by following on Facebook at www.facebook.com/CouturefortheCauseMontgomeryCo.