/

/

Dancing with The Woodlands Stars 2019 a spectacular success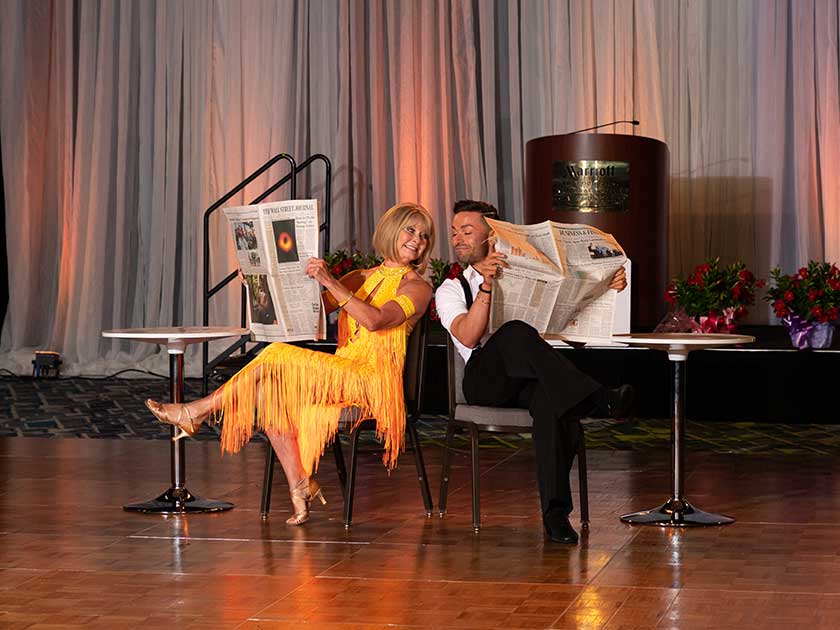 THE WOODLANDS, TX -- Dancers both new and experienced joined together in a show of spectacular dancing for a charitable cause. Thursday, April 11, 2019, the YMCA, joined by the Fred Astaire Dance Studio, hosted the 7th Annual Dancing with The Woodlands Stars event supporting The Woodlands Family YMCA Better Us Campaign.
Fred Astaire and YMCA host an evening filled with dancing for a cause
Couples in full dance costumes performed routines in a variety of styles. A handful of the stars had only been dancing in a structured manner for a couple of months. The agenda, inspired by the television series "Dancing with the Stars," included comments after each performance from the four judges; Nelda Luce Blair, James Ebrey, Miguel Lopez and Whitney Montgomery. In this light-hearted version of the TV show, the judges spoke words of encouragement and positivity to the dancers.
Those in attendance cast votes for their favorite dancer. Donations made throughout the evening bought additional ballots. At the conclusion of the evening, each dancer earned a trophy. Awards were given for Judge's Choice, Best Choreography, Voter's Choice, Best Costumes and many other bestowals. Tom Pisula received the most votes for the evening. Cindy Tice and Jhondarr Lopez had the crowd cheering for a throwback musical performance. Their colorful, flower child dancewear gained them the Best Costumes award.
A music video and performance featuring the YMCA Bright Life Group moved some in the audience to tears. It was a beautiful reminder of everything those with disabilities are capable of and how special they are.
Children from the YMCA Outreach Group completed a fun dance routine with smiles on their faces from start to finish. Their hard work was evident from the choreography executed. The YMCA Sassy Seniors' country music performance perfectly showcased dancing as a fabulous way to stay active in later years.
A live and silent auction raised extra funds for the cause. Proceeds from the event will go toward local YMCA programs focusing on areas of need such as reducing chronic disease and youth obesity, improving academic performance, eliminating drowning, and increasing social equity for all.
From the food to the entertainment, the 7th Annual Dancing with The Woodlands Stars event was a spectacular success! The community eagerly awaits the performances of those nominated to dance next year!
Dancing with The Woodlands Stars 2019 participants:
- Debbie Bates: Real Estate Broker, United Real Estate, Lone Star Group
- Brittani Burress: The Woodlands Medical Marketing Consultants
- Erin Cones: Strike LLC
- Roderick Crawford: CHI St. Luke's Health The Woodlands
- Brian Domingue: Acorn Forums
- Chad Grimes: VERITAS Title Partners L.P.
- Andy Greever: CIRCOR International & EverSan Cooper Real Estate
- Cassandra Mays: Owner, Salt Remedy Nature's Therapy
- Dr. Tim Paschalis: Physician's Group of The Woodlands
- Tom Pisula: Pisula Development
- Paul Purcell: Administrator, Step Pediatrics
- Cindy Tice: First Vice President Morgan Stanley