/

/

Md Anderson Cancer Center Project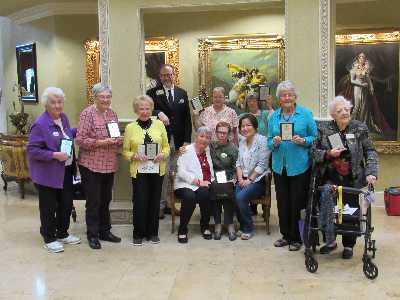 THE WOODLANDS, TX -- Mary Kennedy has been a resident at The Conservatory at Alden Bridge for almost 7 years. She has a passion for knitting, specifically hats and sweaters, for her family members and friends. Back in 2016, Mary's family expressed that they had plenty of hats and sweaters and they started to brainstorm how her work could positively affect the community she lives in; this is when she found MD Anderson Cancer Center, Houston/The Woodlands.
Knitters from The Conservatory at Alden Bridge Knit over 5,000 caps for MD Anderson Houston/The Woodlands over the past 3 years
Mary and a few residents needed a purpose to give back. The Conservatory knitters group was established when they found that there was a need for hats for patients undergoing chemo at MD Anderson Cancer Center. The Conservatory supports the project by providing the funds for yarn and needles; a resident donor also helps out. Mary only buy yarns that are soft and lightweight and all the work is done on an individual basis with instructions and help when needed. Mary washes, dries, and packages all the hats and supplies the name of the knitter to be ready to wear. Close communication has been established between MD Anderson personnel and The Conservatory knitters so we know exactly what is needed. Notes from the patients remind us that what we do is meaningful and appreciated by many.
Mary started knitting by herself but after a while it became lonely and she thrived to have interaction. Mary then composed a letter asking for anyone's help if they were interested; experienced in knitting or not, she really just wanted the company. As soon as the letter went out she got immediate interest from other resident's right here in our community to help out. Mary receives help from 10 residents, her granddaughters and other family and friends, and even a friend who lives all the way in Florida who helps by sending yarn and 30 hats every month to contribute.
In the last three years, The Conservatory knitters have knit and crocheted over 5,000 hats for patients who lost their hair while undergoing chemo treatments. The Conservatory knitters were just recognized at The Conservatory Town Hall Resident Meeting on Wednesday, April 25, 2019, by Scott Zylstra; Volunteer Services Coordinator at MD Anderson, The Woodlands and two volunteers, Margaret Looper & Jan Matre, also from MD Anderson, The Woodlands, TX. All Residents received a plaque for their hard work and dedication.
We welcome all residents and family members who are interested in giving back to the community to such a great cause. For more information on how to get involved, please reach out to Mary Kennedy at The Conservatory at 281-681-3102.