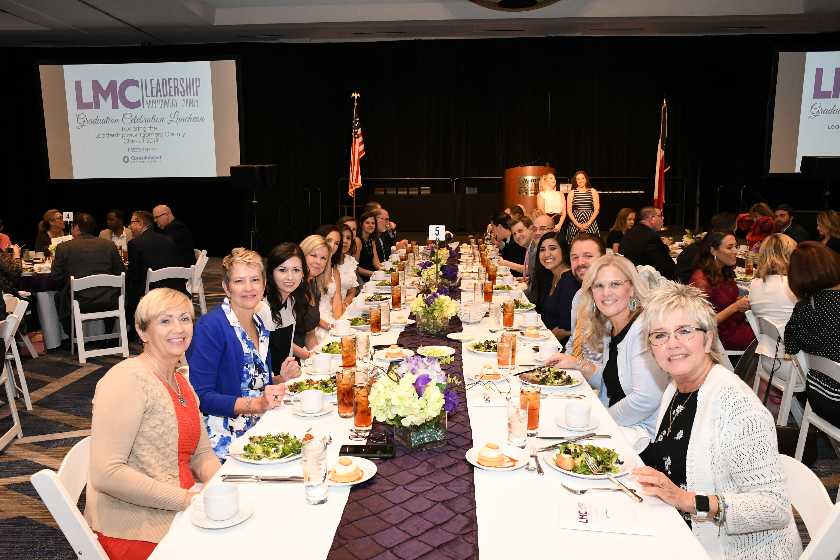 MONTGOMERY COUNTY, TX -- Leadership Montgomery County (LMC) recently celebrated the graduation of the LMC Class of 2019 at their Graduation Celebration Luncheon presented by Consolidated Communications.

With more than 400 people in attendance, the luncheon highlighted the accomplishments of the current LMC Class over the past year and also celebrated the 2019 LMC Distinguished Alumnus and 2019 LMC Honorary Alumnus.

The 44-member class of business and community leaders spent the past nine months learning about the inner workings of the county through monthly education sessions, completed a leadership development series, and worked together to give back through their class project.

Topics for the monthly education sessions included Economic Development, Education, Government, Infrastructure, Public Safety, Healthcare, Serving Our Community, and Leadership Development. The luncheon also highlighted and honored the session directors who planned each of these sessions.


The Leadership Series, sponsored by Repsol and presented by Chad Patterson & Associates, covered the 21 Irrefutable Laws of Leadership by John Maxwell. LMC alumni led the class in small groups to discuss the book and allow class members to learn from each other's experiences and grow in their leadership development.

The class left their mark on Montgomery County through their Class Project benefiting Angel Reach. The class worked together to help rebuild a resale furniture store for Angel Reach, called Angels Loft. The class raised more than $14,000 in cash donations and even more in in-kind donations for the project. The class renovated the space, created a business plan, created a human resources manual, implemented a store pricing system, and developed marketing and social media campaigns.

"This class has certainly left their mark on Montgomery County and will only continue to do so for years to come. They are a wonderful group of leaders who care greatly about this community," said LMC Executive Director Sarah Rhea. "They have gained a greater understanding our county, grown in their leadership development, and formed lasting relationships with other community leaders. I'm excited to see the difference they will continue to make in the community."

The graduating class includes:
Megan Alarid
Heightened Leaders, LLC

Dr. Julie Barrett
Texas Children's Hospital

Sandy Barton
Greater Magnolia Parkway Chamber of Commerce

Dr. Mustapha Beydoun
Houston Advanced Research Center (HARC)

Phillip Black
Dossey & Jones, PLLC

Audrey Blevins-Winkle
Spirit of Texas Bank

John Brown
Huntsman

Patty Bruha
The Woodlands Christian Academy

Nataly Castro
Lone Star Family Health Center

Margaret Cecil
CHI St. Luke's Health

Justus Corley
Woodforest National Bank

Julie Crocker
The Woodlands UMC

Lupe Cuellar
Exxon Mobil Corporation

Jeffrey Dewese
Signorelli Company

Anna Dudley
Manhard Consulting

Judi Foster
United Way of Greater Houston

Cindy Frazee
MDAnderson Cancer Center, The Woodlands

Trent Fulin
Houston Methodist The Woodlands Hospital

Brian Garcia
Entergy Texas, Inc.

Dr. Michael Gerlach
Conroe Dental Health

Paula Green
Conroe ISD

Dr. Brandy Harvey
Lone Star College - Montgomery

Macy Hunsaker
Martin Earl & Stilwell, LLP

Tracy James
Corporate Incentives

Jeremiah Kamerer, P.E.

Royce Lanning
The Strong Firm, P.C.

Daniela Mead
Daniela Mead State Farm Insurance

Ryan Morton
Conroe Welding Supply Inc.

Lorrie Parise
The Howard Hughes Corporation

Amanda Poole
Memorial Hermann/Canopy

Laura Powers
Laura Powers Property Group - Keller Williams Realty The Woodlands

Mindy Reynolds
The Leukemia and Lymphoma Society

Terry Rogers-Jefferson
Consolidated Communications

John Sellars
Conroe/Lake Conroe Chamber of Commerce

Lt. Scott Spencer
Montgomery County Sheriff's Office

Laura Starzyk
YES to YOUTH Montgomery County Youth Services

Alli Stephens
CASA Child Advocates of Montgomery County

Todd Stephens
The Woodlands Township

Sarah Tillman
State Representative Will Metcalf

Lee Tipton
City of Conroe Police Department

Dr. Larry Verfurth
HCA Houston Healthcare - Conroe

Will Warren
PurePoint Financial

Heather Washburn
U.S. Representatives Congressman Kevin Brady

Courtney West
University of St. Thomas


The event also honored Barry Blanton as the 2019 LMC Distinguished Alumnus. Blanton, of Blanton Advisors, was honored for his dedication to the community and to Leadership Montgomery County. Blanton has chaired both the United Way and the South Montgomery County YMCA. In 2010, he was honored as a Hometown Hero by Interfaith of The Woodlands. He helped bring Light the Night to Montgomery County and is an avid supporter of the Leukemia and Lymphoma Society.

"Barry is an incredible leader who lends his time and talents to many community organizations," said LMC Chairman of the Board Melissa Young. "He leads with integrity and inspires teamwork, creativity, and dedication. We are pleased to honor him as our 2019 Distinguished Alumnus."

Leadership Montgomery County also honored Frankie Alexander as the 2019 Honorary Alumnus. Alexander served as president of LMC for 15 years and laid the foundation for a strong, comprehensive leadership program.

"LMC would not be what it is today without Frankie Alexander," said Rhea. "Her dedication to this organization and her incredible work as a leader in our community made her a perfect fit for Honorary Alumnus. We are thrilled to honor Frankie with this award."

Applications for the LMC Class of 2020 are available online now at LMCTX.org. The deadline for applications is June 7, 2019 at 5 p.m.

Leadership Montgomery County (LMC) is a 501(c)(3) nonprofit organization, dedicated to developing and enhancing current and future leaders of Montgomery County. The mission of LMC is to prepare emerging and existing leaders to understand local issues, grow their leadership skills and connect with others to better serve Montgomery County.

The Conroe/Lake Conroe Chamber of Commerce, The Woodlands Area Chamber of Commerce, the Greater Magnolia Parkway Chamber of Commerce, the Greater East Montgomery County Chamber, the Montgomery County Hispanic Chamber, and the Montgomery Area Chamber are all participating Chambers in the LMC program.

For more information about Leadership Montgomery County, please visit LMCTX.org.