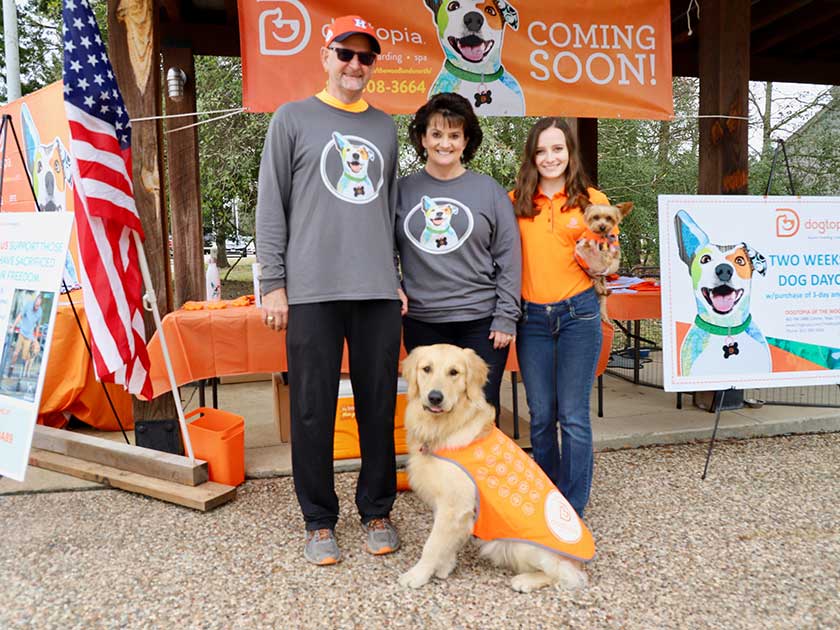 THE WOODLANDS, TX -- If creating positive changes in the world is the destination, the paths to get there are numerous and varied. Many noble causes exist with the same goal of bettering life on this planet we call home. Dogtopia has taken a unique approach by turning to dogs, man's best friend, as the impetus for change. Dogtopia The Woodlands North opens its doors to our community this month.

John Ledbetter, president and owner of Dogtopia The Woodlands North, retired after spending 30 years in the insurance industry. Sandy Ledbetter, John's wife and managing director of Dogtopia The Woodlands North, is a teacher at The Woodlands Christian Academy. The Ledbetters raised their daughter Chelsea here and have been a part of our community for more than 20 years. After retirement, John wanted to continue in the workforce, but he was ready for something different. "I was looking for a fun business to get involved with that was not really 'work,'" John said. "Doggie daycare was not even on my radar when I retired."

John did his homework on fun, growing industries, and, after researching ideas and consulting professionals, he stumbled upon something that resonated with him. The passionate CEO of Dogtopia states the company's noble cause: to enhance the joy of dog parenthood and enable dogs to positively change the world.

"In this crazy, mean-spirited culture we are living in, we could turn to 'man's best friend' to help positively change the world," John said. "After meeting with the CEO and his team, Dogtopia was the definite solution for my second career."

Moving forward with the plans to open this spacious 5,700 square foot, dog daycare, boarding, spa and training facility is a childhood dream come true for Chelsea Hutcherson, John and Sandy Ledbetter's daughter. At the age of 12, Hutcherson's love for animals led to her offering dog daycare services in the family home. Faithful Fido's, the name she operated under, turned out to be a successful venture for Hutcherson, who earned enough to fund her first car and help with expenses while attending college. Hutcherson graduated in 2018 with a degree in animal science from Texas A& M University. Now, as vice president and general manager of Dogtopia The Woodlands North, Hutcherson's aspirations are becoming a reality.

Dogtopia achieves their virtuous mission of bringing more happiness to the world through the dogs living among and with us. Happier dispositions and improved behavior from pets spills over, impacting the whole family and enriching their lives on a daily basis.

"We see dogs bring more joy to their family after the pup makes new BFFF's (Best Furry Friends Forever)," John explains. "For example, when one of our pet parents' pup has not been around a lot of other dogs and we socialize them with other dogs, the pup turns into a better member of their family! We often get compliments from the pet parents on how their time on walks or with other dogs at dog parks is so much more fun as their pup knows how to interact with other strangers that appear to be their best friends."

The Woodlands community already houses many dog daycare and boarding facilities. A few features incorporated into the business model of Dogtopia set it apart as unique.

- Daycare includes 8-10 hours of safe playtime, focused on socialization, exercise, education and fun with trained canine coaches. The unmatched level of training provided to employees is created by Dogtopia's registered animal behaviorist, environmental biologist and veterinarian.
- Commitment to transparency is assured through the use of live webcams in all indoor and outdoor playrooms. Pet parents can watch their dog playing and have peace of mind.
- Compressed rubber flooring is utilized instead of traditional concrete floors to reduce the impact on the dog's feet and joints during play.
- Dogs enjoying a stay while boarded at Dogtopia are always included in the daycare fun and playtime at no extra charge.
- A strictly enforced, midday, quiet time ensures pups and employees are optimally rested and recharged for the afternoon. The facility does not accept drop-offs, pickups or tours during this time, as needed rest takes priority, and the dogs should not be disturbed during their naps.
- Dogtopia policy does not require pet owners to pay for a Sunday stay if the dog isn't staying overnight on Sunday. This may seem like an obvious statement; however, many facilities have a policy requiring owners to pay for a Sunday stay even if they pick up their pup that day.


Knowing all the exceptional aspects of care provided by Dogtopia will likely have dog owners in The Woodlands eager to introduce their pups to the Dogtopia team. Friday, June 21 is the soft opening for Founders Members, and on Monday, June 24, all operations will be a go for the long-anticipated grand opening.

Dogtopia wants to make it easy for residents to give their services a try. Until the doors officially open, two specials are available for purchase. The Basic Founders' Offer, priced at $99, includes two weeks of unlimited daycare from June 21 through July 3, plus a three-day daycare pass to utilize anytime in the future. The Premium Founders' Offer, priced at $299, includes 12 days of daycare during the first month of business, and a five-day daycare pass to utilize any time in the future. Both offers are available on Dogtopia's website. Purchase of a Founder's Offer entitles the customer to membership privileges and 50 percent off boarding and spa services during their use.

Schedule a Meet and Greet session for your furry friend to get started on all the fun. The joy your dog experiences during their stay will no doubt be contagious and increase the happiness in both of your lives.