/

/

Lone Star College student recognized at Houston Astros game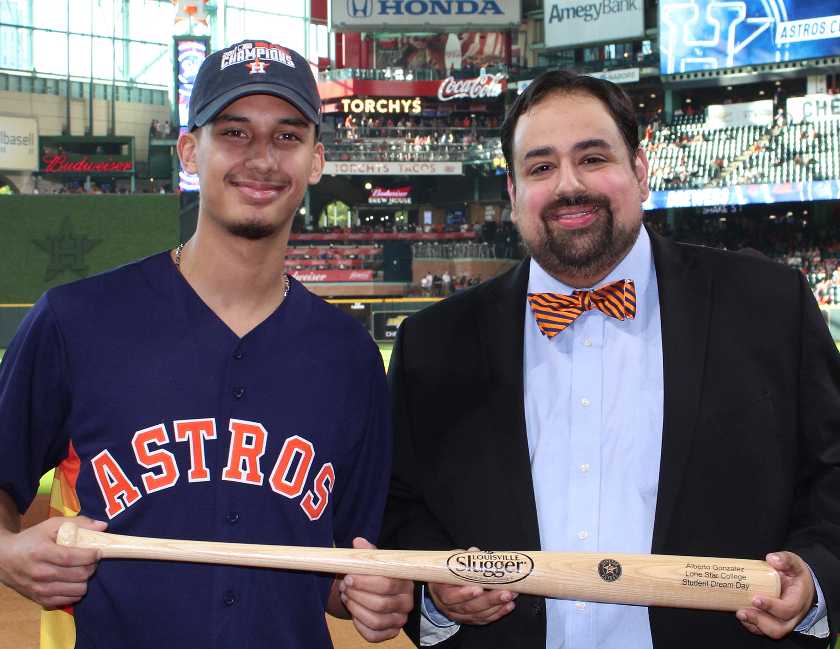 HOUSTON, TX – Alberto Gonzalez is ready to attend Texas A&M University in the fall to pursue a degree in electrical or chemical engineering thanks to the education he received at Lone Star College.

"I would say that my Lone Star College experience has influenced me by teaching me how to become a good person, not just a good student," said Gonzalez. "If it were not for Lone Star College, I would be working at a dead-end job somewhere and be completely oblivious to my own capabilities and potential."

Earlier this year, Gonzalez earned a Chancellor's Breakfast Scholarship funded by Lone Star College Foundation. The Chancellor's Breakfast recognized 12 LSC students, each receiving a $1,000 scholarship made possible due to the generosity of LSC Foundation donors and supporters.

"The Lone Star College Foundation is able to help students like Alberto because of the support of our generous donors and sponsors," said Nicole Robinson Gauthier, LSC Foundation executive director. "Alberto is an amazing story and a testament to what hard work can accomplish."

Gonzalez earned an Associate of Science degree in General Math and Science in May.

In addition to the Chancellor's Breakfast Scholarship, Gonzalez was also awarded a Jack Kent Cooke Foundation Transfer Scholarship. This prestigious scholarship provides $40,000 per year for up to three years to cover a substantial share of educational expenses including tuition, living expenses, books and required fees.

"After focusing so much of my attention on finances for school for so long it is a completely new feeling to know that I no longer have to," said Gonzalez. "I have never been more excited to continue my education, meet other scholars and have the opportunities to help others reach their academic goals."

Lone Star College has been helping students like Gonzalez start close and go far for more than 43 years. Registration is underway for fall 2019 classes. Learn more at LoneStar.edu/Start.