/

/

EfTA Celebrates Summer Internship Program Successes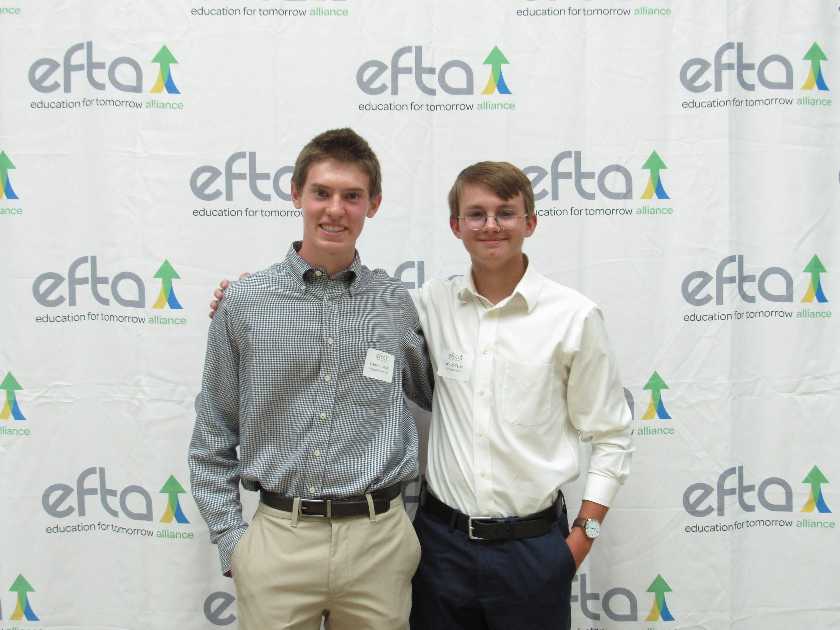 CONROE, TX -- Education for Tomorrow Alliance (EfTA) hosted its annual summer Student Internship Program (SIP) luncheon presented by Sam Houston State University on Tuesday, June 25th at the Lone Star College Community Building. Two-hundred and fifty students, employers, and supporters celebrated student successes.

The Student Internship Program provides rising high school seniors with the opportunity to work with career professionals and learn outside of the classroom. The two-week internships leave students with 80 hours of hands-on experience, as well as valuable insight into the professional world. This year marks the largest number of students to date with 155 student participants from public and private schools, and 68 intern hosts. Through partnerships with businesses from the city of Willis to south Houston, EfTA is helping students explore their career interests while they are still in high school.

Abigail Kelly, who interned at The Strong Firm, and Alice Dang, who interned at Memorial Hermann The Woodlands Medical Center, shared how their unique experiences with EfTA's program impacted their growth. Abigail explained, "I needed direction as I begin to face the world of college applications, and thankfully I found it." She continued, "This internship has the missing puzzle piece to my decision on my major." Alice said, "The exposure and experience that I received during my internship will always be a valuable guide for me in the future." Her time at Memorial Hermann was both inspiring and full of practical observations as she recounted, "Not only did I learn how many pairs of gloves everyone goes through in a day, I got to see the amount of dedication and professionalism and love the employees there have for their jobs."

Keynote speaker Russell Molina shared insight he has gathered from his professional experience as an entrepreneur. He advised the students to keep their "eyes wide open" in order to learn as much as possible, and to "start early and stay late" to maximize their professional opportunities as they move forward in their academic and professional careers.

The event concluded with two special recognitions. Chelsea Salviejo and Rudy Barrels thanked their respective hosts, the Woodlands Township and Houston Advanced Research Center, for going above and beyond to give their interns an exceptional learning experience. Chelsea highlighted how welcomed she felt as a high school intern, and thanked Megan McNairn for an eye-opening introduction to entomology. Rudy commended Erin Kinney for her passion, dedication to working with EfTA interns, and commitment to helping the students find success.

Education for Tomorrow Alliance is a nonprofit organization dedicated to cultivating education and community partnerships that advance student success. With innovative programs focused on career, leadership, and STEM preparation, EfTA is the portal through which business leaders can access and strengthen local education. To learn more, visit www.efta-us.org.