Don't cut corners on safety: Dawson Security Group remains committed to service and the community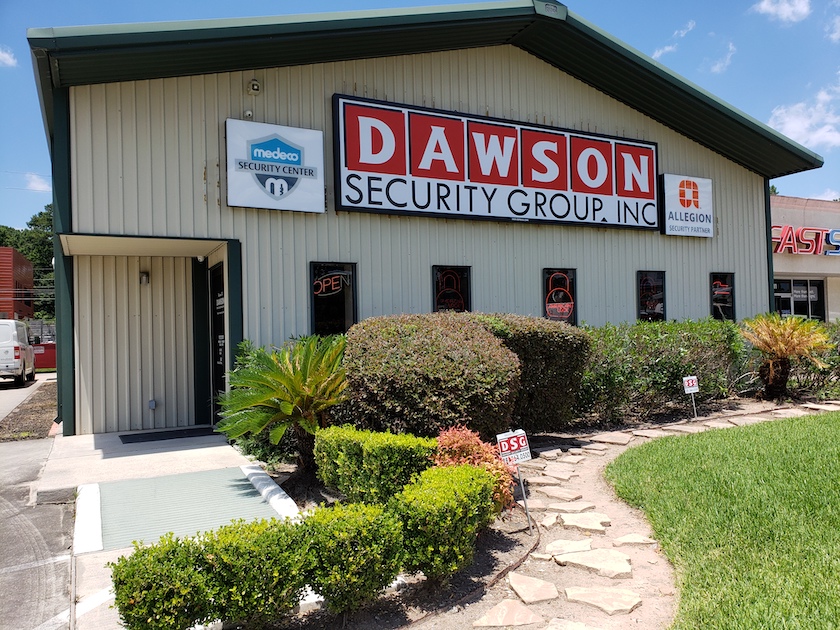 THE WOODLANDS, TX -- A woman walks into her office and drops her keys on the desk and her purse in the chair. A bit frazzled from the morning traffic, she flashes a friendly smile to her first client of the day, who has been waiting in her office, and then offers him a cup of coffee. He accepts and she leaves the room briefly to grab the coffee. While she's gone, the man leans over to her desk and snaps a photo of her keys. He puts his phone away and graciously thanks the woman when she returns with the coffee.

Three days later, a copy of the woman's house key has arrived in the mail and the man now has access to her home.

This story isn't a far-fetched scare tactic designed by security companies; it's one of the most prevalent problems in the security world today. With the right company offering the best security on the market, you and your family can be protected against security threats like this.

Dawson Security Group, Inc., formerly Dawson Safe and Lock, is an essential local business in The Woodlands. Mark Dawson and his wife, Kathy, started the company in 1998 in their garage. And while the times may have changed and they are no longer operating out of a garage, their philosophy has stayed the same: "We don't ask you to pay for a job until I would let my mom pay for it."


A part of the community
"Do the work and do it well," Dawson said. His business serves The Woodlands and surrounding areas, so he isn't just helping clients, he's helping his neighbors. When it comes to safety, whether it be locks, safes, or home security, Dawson has a passion for understanding his clients and providing the best customer service available.

"You should be using a local company to handle your security needs, because we live, work, play and worship in the same environment you do," Dawson said. "We are in tune with the security needs of the community because we observe the same activity and threats that our neighbors do."

His pulse on the community is unparalleled. Before starting his own business, he installed locks on stores in The Woodlands Mall when it was being built. Dawson has been doing locksmith work since he graduated from high school, and after that he worked as a security officer. Safety isn't just a passion for him, it seems to run in his blood. And it runs in his sons' blood as well.

"We're a generational business," Dawson said. "At one point both of my sons were working for me. Now one does, and he's learning everything there is to know about the business. And as the area grows and technology advances, he's helping Dawson Security Group to meet those new needs. But at our core, we're still a hometown service with a hometown attitude."
The Dawson Grade
Dawson Security Group stands apart from the competition in a number of ways: customer service, quality of work, grade of product and training of their staff. Dawson's office walls are lined with his licenses and certifications, and he's a proud member of the board of directors of ALOA Security Professionals Association, Inc. His technicians are some of the most knowledgeable around, constantly learning more about their craft, and they're licensed, bonded and fully insured to meet the needs of the residential and commercial sectors.

Very few security contractors are as concerned about their clients and the quality of product as Dawson.

"We'll give you the straight answers you're looking for," Dawson said. "We'll show you the difference between junk and quality. Premium products perform better. That's all there is to it. We believe in having strong relationships with our distributors and manufacturers to leverage our buying power so we can pass those savings and benefits down to our clients."

And what happens when your system malfunctions or you need customer service?

"If you have a product from one of the 800-number services, you'll be on the phone for two hours waiting to talk to someone," Dawson said. "When you work with us, it's a person right here in The Woodlands picking up the phone. We're going to work with you - no matter the day of the week. We communicate as best we can with our clients. It's our commitment to service."


'Don't cut corners'
Do It Yourself (DIY) home installation of security is a popular trend, but one that offers its disadvantages to homeowners. Dawson explained how the products purchased in home stores and online are not the same quality received when you have locks or security installed by the team at Dawson Security Group.

"The DIY market is fantastic, and people are capable of doing these things, but if people would put in a more quality product, they wouldn't have to revisit their own repairs every two years," Dawson said. "We have locks that you can beat with sledge hammers, crowbars and drill and pry at them and they do what they're supposed to do - keep the door shut. And they last longer."

You can't put a price on peace of mind, which is why home and business security should be a top priority.

"This isn't an area to cut corners," Dawson said. "We're talking about keeping your family and business safe. I've never given information out to people that was not true and honest and able to be backed up by my experience."

As technology has grown, so has what Dawson and his team can offer their clients. They have everything from systems that connect to Wi-Fi with smartphone management to cameras that can hone in on license plates. Even his business card and marketing brochures are connected - simply scan the QR code and a wealth of information about locks and security is in the palm of your hand. (The same QR code is in the photo gallery accompanying this article.)

"There's a lot to be said about what we can teach people," Dawson said. "If you come in and talk to us, we can save you time and help direct you on the right path for what you want to achieve."
The layered approach
When you step into Dawson Security Group, located on the feeder road of I-45 south, you're surrounded by safes, door locks, keys (a whole back wall of them) and home security displays. But where do you start?

"First, tell us what your goal is," Dawson said. "We work with homes, apartments, businesses, schools, and municipalities. We can work with just about everyone, but first we have to know what you want to do."

Dawson brings the layered approach to security. The first layer are high quality locks and accompanying hardware. They provide these from the reputable brand Medeco, the USA made leader for high security locks and restricted keys. Medeco products prevent your keys from being replicated at local hardware stores and also provide hardware that can withstand extreme abuse.

The next layer is smart security. Dawson Security Group is a provider of Alula, and their Connect+ panel combines a wireless smart system with Z-wave home automation controlled by your smartphone. The Alula system offers environmental sensors for windows and doors, motion, tilt, flood and temperature and glass break and video remote viewing. All operated from a single phone app for additional convenience.

The third layer are safes. There's no shortage of heavy duty, durable safes in the Dawson Security Group showroom. The high-quality safes they offer protect your valuables from fire and burglary.

Dawson has thought of everything, including future maintenance costs for his clients. He's committed to providing them products and services that will help maintain a product for as long as possible.

"You won't achieve the level of customer service, the level of craftsmanship and quality, and how we stand behind the products we offer. If you have a problem we don't hide from it, we resolve it."
Commitment to service
Hanging on the walls of the Dawson Security Group showroom are five years' worth of "Best of The Woodlands" plaques. Dawson smiled as he pointed to each one and its precise spot on the wall.

"I don't take those five awards on the wall lightly," Dawson said. "That tells me my community really does think I'm at the top of my game and they really would recommend me to other people. The best thing I could ever ask for is people give us honest reviews and honest recommendations."

Dawson is not only providing security to his neighbors, but he's also bringing jobs to the area.

"Out of all the hats I wear, the one I wear the proudest (even though pride shouldn't be involved in any of it), I'm proud to be a job provider," Dawson said. "And not only a job provider, but we're providing entry-level jobs that quickly become, for the right people, a career."

If you call Dawson Security Group today, there's a chance Dawson will be the one to answer the call. Even after 20 plus years of running a local business, he's still working directly with clients he cares so much about. His commitment to the community and to excellence in service are contagious.

For more information about Dawson Security Group and to find out the full scope of what they have to offer for your home or business, visit DawsonSecurityGroup.com or call 281-364-0500.