Decades of excellence: Cho's TaeKwonDo Academy teaches generations of families in the community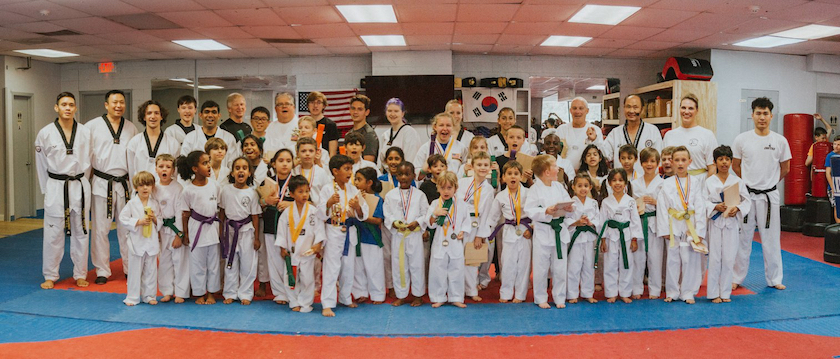 THE WOODLANDS, TX -- Tucked in Oak Ridge between Space Cadets Collection Collection and Flips Gymnastics is a TaeKwonDo Academy proudly been serving the area since 1992. When I first walked into Cho's TaeKwonDo Academy, I was greeted by the sounds of some of their summer campers playing. They were all smiles as they devoured snacks and waited for the arrival of their parents.

"The best part about summer camp are the snacks and the field trips," one camper said. "Today we went to the pool!"

Within minutes I was swarmed by other smiling faces willing to share their favorite activities. One young girl, just eight-years-old, shared with me she was a black belt.

"My favorite part is sparring with Master Anthony," she said. Her fellow campers echoed with cheers and an abundance of nods.


Their roots
Cho's TaeKwonDo Academy is run by Grand Master Cho and his eldest son, Master Paul and youngest son David who is a working as a Marketing/Operations Director. Master Cho moved to America from Korea when Paul was only 11 years old, hoping to find a better life and education for his family. While living in Korea, Master Cho and Paul both studied TaeKwonDo.
"My uncle and cousins are actually TaeKwonDo Masters as well," Paul said. "We have a TaeKwonDo background." Master Cho's daughter, currently a teacher in Pennsylvania, is a black belt as well.
The Cho family didn't move to America with the intention of starting a TaeKwonDo academy. Master Cho's friend owned a small TaeKwonDo school off I-45 but told the Cho family he was moving. He offered Master Cho the opportunity to buy the school. Master Cho gladly accepted.
"At the time, I was becoming a teenager and I started helping out with the classes," Paul said. "I graduated from Oak Ridge High School, I was part of the Academy of Science and Technology. I was going to high school and teaching TaeKwonDo after school."
After graduation, Paul attended the University of Texas where he received his degree in kinesiology with a business minor while being a founding member of the TaeKwonDo club. He then started a business with colleagues in Dallas. When it sold, he moved back to The Woodlands to continue to help his father run the TaeKwonDo academy.
"We've been in this area for a long time," Paul said. "Now, some of the parents of our students were once students we taught. They got married, had their own kids, and now their kids come here."
The Cho's TaeKwonDo difference
Cho's offers classes for children as young as three and half all the way to adults. Families can even partake in classes together. But each student at Cho's TaeKwonDo is special to Master Cho and Paul. All the instructors take great care to invest in each student.
"We really want to be part of their lives and be a mentor," Paul said. "Martial arts help our students study better at school. A lot of our students go to prestigious colleges, like Harvard and MIT and Berkley. We're so proud. They feel like our kids too. And a lot of them are black belts."
How a student earns a black belt is another aspect of the academy that makes them stand apart from the rest.
"When [a student] receives a black belt, we require them to write a report about their TaeKwonDo experience," Paul said. "They have to turn in a five-page paper with research on TaeKwonDo and their personal experience. Many of the black belt students talk about how TaeKwonDo helped them have more confidence and helped them focus better at school. It gives them a sense of achievement."
Receiving a black belt at Cho's is about more than just showing up for class. Students have to stay with martial arts for at least two-and-a-half to three years, know all the skills, forms and kicks, memorize the techniques, and do all board breaking. And at the black belt ceremony, students read their reports in front of their class. Over the years, Cho's TaeKwonDo has awarded hundreds of blackbelts; approximately one-third of their active students are black belts.
"When students start at our studio, about 30-40 percent of our students stay to become black belts," Paul said.
A focus on academics
Cho's TaeKwonDo Academy works alongside its students to encourage academic excellence.
"My father and I tell them, 'TaeKwonDo is important, but school comes first,'" Paul said. "And during a belt test if they bring in their report card with all A's, they get a special medal."
There's a big discipline aspect, a traditional one, that comes from keeping their academy close to a Korean one. Learning not only the forms and techniques but learning the Korean language and achieving success in the classroom helps create generations of students who love martial arts. Paul has college students who come back in the summer, from colleges all over the world, to help teach and impart knowledge to younger students.
Master Anthony, their head Master Instructor, started at the academy as a student about 20 years ago and now he's teaching future black belts. Master Anthony's competition sparring team qualifies for National Tournaments with medaled athletes every year and Master Paul's Demo. and Weapons teams are invited to perform in numerous events and parades every year.
"We're so proud of all our students," Paul said.
Joining Cho's TaeKwonDo Academy
Cho's has about 300 students at their Oak Ridge location and 50-60 students at their newly opened Creekside location. Both Grand Master Cho and Paul teach students at both locations.
In addition to classes for people of all ages, Cho's offers before and after school programs and summer/winter/spring camps all year-around. Other fun events at Cho's include Birthday Parties and Parent Night Out Buddy Camps. They teach TaeKwonDo classes on-site at John Cooper, The Woodlands United Methodist Church, Interfaith and sometimes at British Paddington school. They also provide free seminars focusing on anti-bullying and self-defense.
Cho's was voted "Best of The Woodlands," a testament to this family-owned academy and their passion for martial arts.
"It means a lot that we won, because it means the parents and our community are giving us a reward for making a positive influence in their children and their family, and also for the parents that do classes," Paul said.
For more information about classes and all that Cho's TaeKwonDo has to offer, visit their website
chotkd.com
or find them on Facebook.