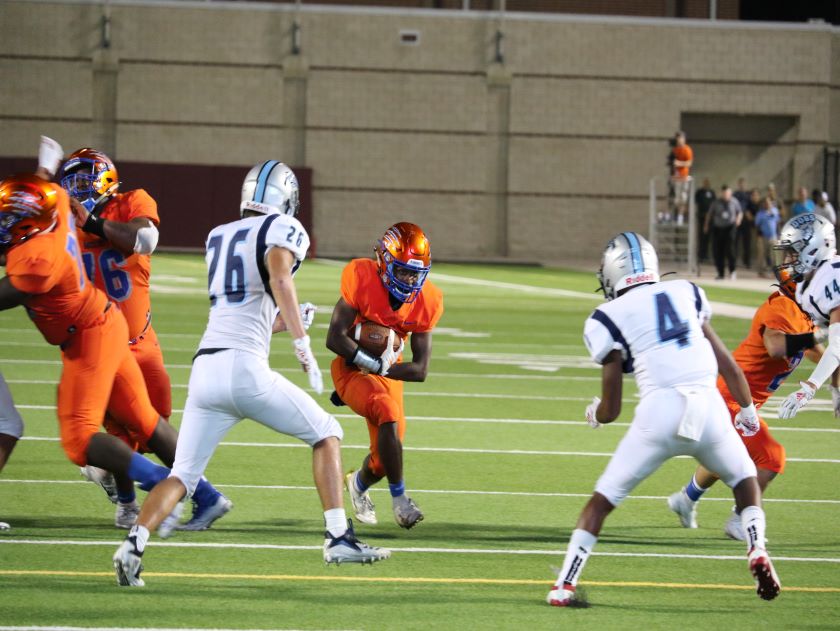 THE WOODLANDS, TX -- Thursday night marked the beginning of the football season for many teams across the state. To the surprise of no one, it only took one night for the craziness of Texas high school football to reappear. In a thrilling overtime game, Grand Oaks dropped their first game of the season to the Sweeny Bulldogs 22-21.

The first game of the season at Woodforest Stadium was the perfect mix of a low-scoring slugfest and a high-powered highlight reel. After the Grizzlies' defense did a good job of bending but not breaking in the first quarter, Sweeny would finally cash one of their big plays in for 6 points early in the second. Bulldogs' running back Xavier Woods escaped a tackle in the backfield, then outran the rest of the Grand Oaks defense for a 73-yard touchdown.

About 4 minutes later, Grand Oaks would return the favor with a long TD run of their own. After back-to-back runs of 10-plus yards from Micah Cooper, the Grizzlies back would take his next carry 46 yards to the end zone to give Grand Oaks a 7-6 lead.

A couple of missed opportunities for Sweeny kept the scoreboard locked at 7-6 until midway through the fourth quarter. The Bulldogs would go back in front for the first time since the first after a short TD run and nice two-point conversion play gave them a 14-7 lead.

Grand Oaks would get the football one last time with 4:37 remaining and no timeouts. The Grizzly drive would stall when they came up just short on a fourth-down play. However, a facemask penalty against the Bulldogs' defense kept Grand Oaks' hopes alive with two minutes to go. Quarterback Sean Zver would continue to move the ball down the field, mainly with his legs. That said, it was his arm that would make the biggest play of regulation.

With eight seconds left in the game, Zver rolled out to his left and hit wide receiver Seth Wright in the back of the end zone for the game-tying score, sending the game to overtime.

In OT, Zver and Cooper would cause problems for the Sweeny defense which led to the Grizzlies scoring first on a QB sneak to take a 21-14 lead in OT. Ultimately, Sweeny was unphased as the Bulldogs responded with their own back of the end zone TD grab, setting up Jayden Ward's 2-point conversion to steal a 22-21 win on the road.

After losing a wild game, Grand Oaks (0-1) will look to bounce back next week against Milby HS.