/

/

How the Woodlands Chapter of the Texas Hispanic Gulf Coast Chamber of Commerce is Flipping the Script
How the Woodlands Chapter of the Texas Hispanic Gulf Coast Chamber of Commerce is Flipping the Script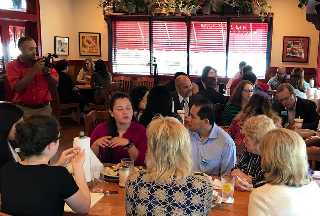 THE WOODLANDS, TEXAS -- On a gray and rainy Tuesday, much like any other gray and rainy Tuesday, a few dozen people gather as they do every other week to network, to learn, and to do the work of growing this community. The Woodlands-Conroe chapter of the Texas Gulf Coast Hispanic Chamber was founded a little under two years ago, but the organization as a whole has been around longer and boasts 181 members across its three chapters (the others are located in Katy and The Galleria).

Roughly three dozen professionals attended the event despite the weather, and their stories painted a picture as varied as the reality of the local economic landscape. Tuesday's lunch company included a functional medicine practitioner, a real estate agent with a burgeoning brewery, a candidate for a local judicial seat, a real-life house flipper, a handful of financial advisors, and Phyllis Cline, whose experience using CBD oil and its impact on her health and well-being led her to start a business selling the product only a few months ago (her business is named, of course, "CBD Granny").

Though the Chamber is ostensibly meant to provide a welcoming space for Hispanic professionals and business owners, more than one attendee gleefully noted that Hispanic identity or the ability to speak Spanish is not a requirement -- indeed, many members of the Chamber are not themselves Hispanic. Tom Brodie, Director of Membership, echoed the sentiments of many other attendees when he repeated the refrain, saying that it's a "welcoming, supportive kind of chamber."

The meeting was led by President and CEO Dr. Carlos Sanchez who, it quickly became apparent, is known by all simply as "Dr. Carlos." Sanchez is one of those rare people who seems like he could attract an audience if he were whispering in a corner. With the apparent ability to make eye contact with thirty people at once and pepper his mellow-yet-booming, edifying speech with jokes that, sadly, do not translate well into the written medium, it's pretty clear within a few minutes of the luncheon why he's ended up here, guiding professionals and business owners, many of them quite new to the scene, through the tribulations of networking and the importance of social media.

The inclusivity, camaraderie, and informality of the meeting are refreshing, and Dr. Carlos knows it's an asset. Ahead of the introduction phase -- every single attendee has the opportunity to speak to attendees as a group -- Sanchez remarks on the nuisances he sees as endemic to other such business organizations. "As visitors you're important to us, you matter to us," he said. "I've gone to things where they don't let you talk at all until you join and pay them money. You're here today with the chamber of commerce and our business is your business." The intimate setting and casual nature of these biweekly luncheons, in his view, allows for stronger connections and more opportunities to learn from one another. It's also a bit more fun, as Sanchez reminisces on another networking event: "100 business members there, it was excruciating, two hours of it! It was too boring and too long."

The Chamber is still working to get broader recognition and publicity, for itself as much as for its member base. In addition to its directory, social media presence, seminars, and other events, the Chamber hosts two radio shows -- one in English on Tuesdays and another in Spanish on Thursdays. The shows are hard to get outside of parts of Conroe, but recordings are made available on Youtube and various podcast platforms, as well as broadcast live on Facebook.

"We have to compete and we have to get better," Sanchez admonished. As Dr. Carlos spoke to the necessity of constant, near-fanatical self-improvement, the rapt and attention and its undercurrent of conviviality was striking. Maybe it was only the warm lights and the smell of barbecue warding off the gray dampness just outside. But as this chapter works to carve out its niche in the business landscape, one cannot doubt that its members do so joyfully.